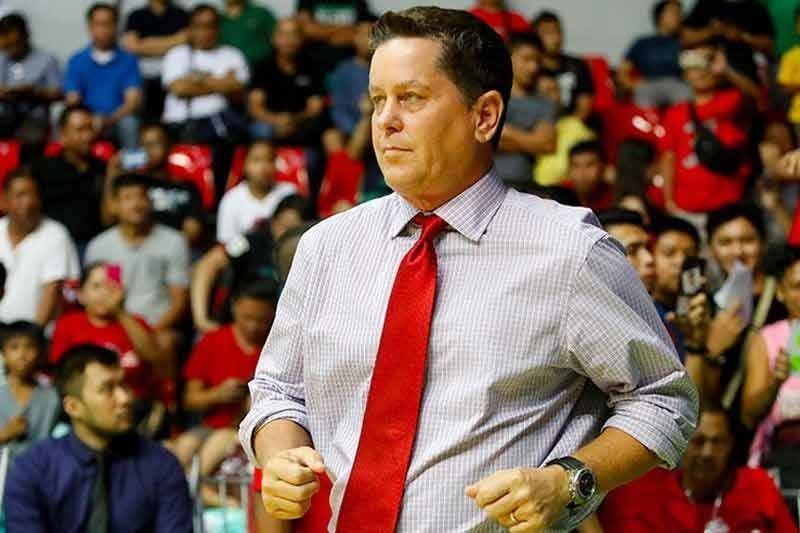 "So many shocking things happened this conference of which beating San Miguel three in a row tops the list," said Cone, referring to Ginebra's wins in Games 4, 5 and 6 of the Finals. "Never would have thought it. The fact that we won big again in Game 6 was a shocker. We expected a down-to-the-wire finish."
PBA Images
Tim Cone shocked by PBA Finals twists
MANILA, Philippines — It's not often that Barangay Ginebra coach Tim Cone will admit to being shocked by twists in the PBA. After all, he's been a fixture in the pro league since 1989 and he's now won 21 conference titles in 33 Finals. But Cone, 60, said he was stunned by several unexpected developments in the Commissioner's Cup that ended with Barangay Ginebra beating San Miguel Beer, 93-77, in Game 6 of the best-of-7 Finals to clinch the crown at the MOA Arena last Wednesday.
"So many shocking things happened this conference of which beating San Miguel three in a row tops the list," said Cone, referring to Ginebra's wins in Games 4, 5 and 6 of the Finals. "Never would have thought it. The fact that we won big again in Game 6 was a shocker. We expected a down-to-the-wire finish."
Cone pointed to Game 5 as the turning point of the series. "That was the pivotal game," he said. "I told our guys after the blowouts (in Games 2 and 3 where San Miguel won by an average margin of 31.5 points and in Games 1 and 4 where Ginebra won by an average margin of 29) that the series wouldn't be decided by blowouts but by who won the close games. The guys showed incredible resilience all conference long."
As for the coming Governors Cup, Cone said he's excited to bring back import Justin Brownlee who has led Ginebra to the last two third conference titles. Brownlee, who measures only 6-4 5/8 but took Best Import honors in the recent Commissioner's Cup where the limit for reinforcements was 6-10, is expected to dominate the Governors Cup thrice more because the ceiling is down to 6-5.
"Needless to say, we're looking forward to the third conference and a chance to play with Justin again," said Cone. "Not sure about the health of Julian (Sargent) and Art (de la Cruz) yet. They have some time go." Ginebra acquired Sargent and De la Cruz in separate trades but both are still recovering from injuries. Sargent, a defensive specialist, came in from GlobalPort with a shoulder issue while De la Cruz was acquired from Blackwater then underwent a second procedure to repair an Achilles tendon tear. Once Sargent and De la Cruz are activated, Cone's rotation will be deeper.
Ginebra assistant coach Richard del Rosario said staying healthy is critical for the Governors Cup. "Winning this conference surely makes us feel good about our chances next conference as long as we stay healthy," he said. "Joe (De Vance), Japeth (Aguilar) and Sol (Mercado) will have time to let their injuries heal so the addition of Art and Julian will definitely help us but we expect them to slowly adjust with the team because of their long layoff."
Del Rosario said like Cone, he never expected San Miguel to drop three in a row in the Finals. "After losing Games 2 and 3, we just went back to basics," he said. "For us, this meant moving the ball, being patient on offense and having a mindset that we are a defensive team first. The scores in the first three games were so high and we were taking quick shots that we're not used to doing."
Entering Game 6, Del Rosario said Cone told the team to just stay in the moment. "Don't think about the past and don't think about the future," he said. "We had one game to play and focus on." Ginebra trailed by 10 in the second period but stormed back to hold San Miguel to only eight points in the third period, reestablishing its defense as the key to dethrone the defending champion Beermen.
San Miguel's short rotation was evident in the Finals as four Beermen averaged at least 30 minutes compared to three for Ginebra. Renaldo Balkman, JuneMar Fajardo, Marcio Lassiter and Alex Cabagnot played heavy minutes for San Miguel. In the fourth period of Game 6, Balkman had little left in his tank and was outscored, 10-4, by Brownlee. Lassiter went 0-of-12 the entire contest as Ginebra held San Miguel to 34.7 percent from the field. It was the fourth game in the Finals that San Miguel shot less than 40 percent and the Beermen lost each one.