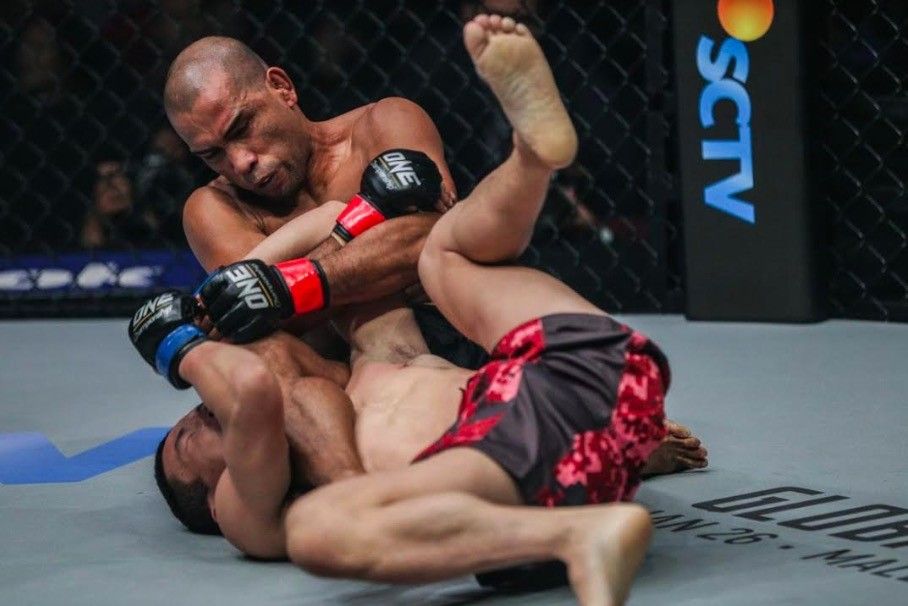 Rene Catalan making a foe submit.
ONE Championship Photo
Validation on the horizon as Catalan seeks to extend streak in ONE
(philstar.com) - July 22, 2018 - 6:30pm
MANILA, Philippines — Rene Catalan had a turbulent start in ONE Championship in 2013, but he has completely turned his professional mixed martial arts career around.
Victory was elusive for Catalan in the first three years of his career in the promotion. He suffered a pair of losses at the hands of eventual kingpins Alex Silva and Dejdamrong Sor Amnuaysirichoke.
And yet, Catalan still found motivation in contiuing his work. This paid dividends when he finally claimed his first victory as a mixed martial artist in September 2016.
"While some athletes get discouraged with early failure, I used my losses in my career as motivation to get back on my feet," he said.
Catalan is now riding high on a four-bout winning streak and looks to barge into the upper echelon of ONE's talented strawweight division.
The 39-year-old Iloilo City native is booked to lock horns with Indonesian prospect Stefer Rahardian on the undercard of "Reign of Kings," which takes place at athe Mall of Asia Arena this Friday.
And even after taking down formidable foes in his weight class, Catalan believes that a victory over Rahardian will leave no doubts that he belongs to the elite strawweight bracket.
"Though I was able to win four fights in a row, I was still criticized by many followers of the sport online. You can't please everybody, but in my opinion, a win in this bout will validate my claim as a contender in my division," he stated.
"My opponent is no pushover. He wants to establish himself as the next strawweight contender for the title, but he needs to work hard for it because I also want that spot," Catalan added.
The Pinoy fighter scored convincing wins over the likes of Zhang You Liang, Adrian Mattheis, Bu Huo You Ga and Peng Xue Wen.
Hailing from Jakarta, Indonesia, Rahardian owns a perfect 9-0 record as a prizefighter, with five of his nine victories coming by way of submission.
Following a white-hot run in the flyweight division, Rahardian made a successful debut as a strawweight this past May, submitting Himanshu Kaushik in the first round.
Catalan is well aware of his opponent's grappling expertise and is diligently training to refute his bread-and-butter as well as his explosive skill set.
"I am preparing a solid defense against him, but of course, I am mixing in some offense as well. I am not sure if he will expect that I will add a twist to my game," he explained.