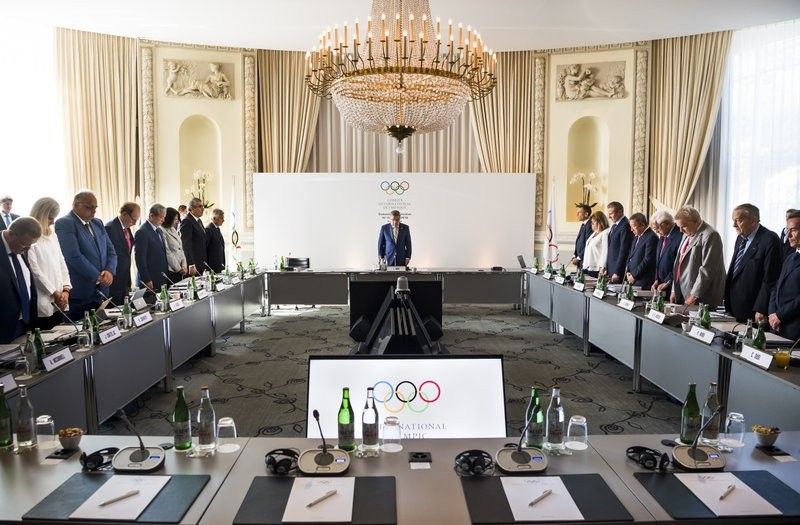 International Olympic Committee, IOC, President Thomas Bach from Germany, and the other board members stand for a minute in silence to honour the 100th anniversary of Nelson Mandela's birthday prior to the opening of the International Olympic Committee, IOC, executive board meeting, in Lausanne, Switzerland, Wednesday, July 18, 2018 (Thursday in Manila).
Jean-Christophe Bott/Keystone via AP
IOC cautions sports bodies on Serbia, Kosovo hosting events
(Associated Press) - July 20, 2018 - 12:00pm
LAUSANNE, Switzerland — The International Olympic Committee will ask sports organizations to "carefully consider" allocating events for Serbia or Kosovo to host due to longstanding political and sporting tensions between the Balkan neighbors.
The Olympic body's executive board took the position Thursday after a Kosovo national karate team was blocked from entering Serbia which was hosting the European Championship in May.
Serbia does not recognize the independence of Kosovo, which its former province declared in 2008.
IOC spokesman Mark Adams said international sports governing bodies "need to be aware" that a championship in either country "could run into problems."
"The political situation between Serbia and Kosovo makes it extremely difficult in practice for both countries to host international sporting events featuring athletes from both countries," Adams said in a statement after an IOC board meeting.
Two sports — boxing and weightlifting — remained uncertain over their inclusion at future Olympic Games, with decisions delayed for several months.
Boxing's place on the 2020 Tokyo Olympic program is in doubt because of turmoil at the governing body known as AIBA. It has been in financial turmoil, faced claims of fixed bouts at the 2016 Rio de Janeiro Olympics, and now has an interim president with alleged links to organized crime.
The IOC board has "significant ongoing concern" about AIBA, which has an election meeting scheduled Nov. 2-3 in Moscow.
Adams said the name of AIBA interim president Gafur Rakhimov "was mentioned" Thursday during the second day of a three-day board meeting. Rakhimov, from Uzbekistan, has been cited by the U.S. Treasury Department for alleged involvement in international heroin trade.
The IOC was more positive about "concrete steps" taken by the International Weightlifting Federation to control the sport's persistent doping problems.
One measure was cutting places at the Tokyo Games for countries with historical doping issues, including Russia, Kazakhstan and Azerbaijan.
The IOC already cut the size of the competition in Tokyo, and weightlifting has only "conditional inclusion" on the 2024 Paris Olympic program.
The Olympic board will review progress at AIBA and the IWF at its Nov. 30-Dec. 2 meeting in Tokyo, Adams said.
Nearly three years after Kuwait's Olympic committee was suspended by the IOC, some progress was made at meetings last week. Kuwait was suspended because its sports laws do not comply with the Olympic charter.