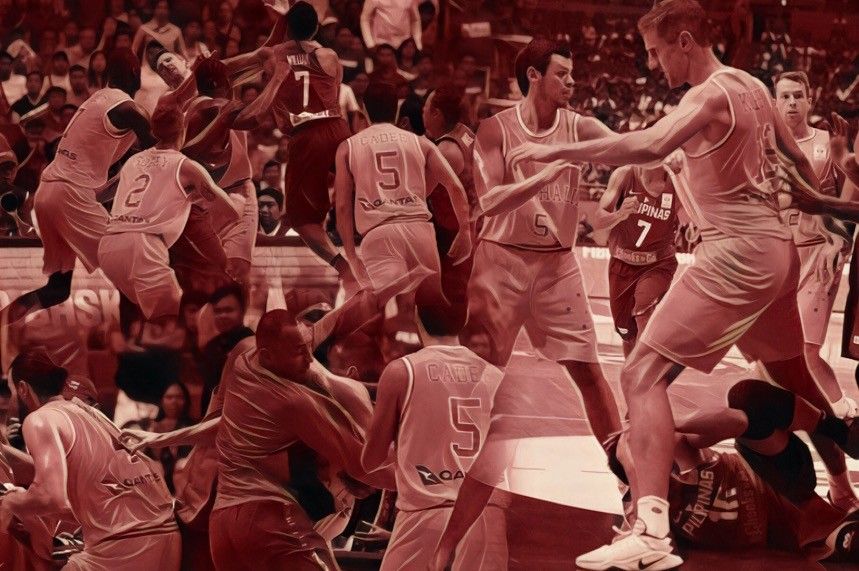 Members of the Gilas Pilipinas and Australia Boomers during the infamous FIBA World Cup qualifying game earlier this month.
Composite Image/Philstar, AP Photos via RP Ocampo
Experts weigh in on Gilas' FIBA fate after Australia fracas
Editor's Note: The following aims only to give readers an idea of the possible repercussions of the Philippines' participation in the brawl-marred basketball game with Australia. It is not meant to pre-empt FIBA's official announcement on the sanctions.
MANILA, Philippines — FIBA's decision has surely put many Filipino hoop fans into an agonizing wait.
"Will the nine players be banned from international play?"
"Are those sanctions going to trickle down into the Philippine Basketball Association?"
"Will the Samahang Basketbol ng Pilipinas (SBP) be suspended?"
"Is this going to cost us our 2023 hosting and bid in the 2019 FIBA World Cup?"
We caught up with Enzo Flojo, a columnist for FIBA.com, and Mickey Ingles, top editor for Batas Sportiva—a sports law blog run by practicing lawyers—to put into perspective the possible sanctions the Philippines could face following the brawl that marred a FIBA World Cup qualifying game which divided the country and made the rounds in many sporting news sites around the globe.
What are the possible punishments FIBA could mete out in the event of a brawl?
FLOJO: The most straightforward would be suspensions for personnel involved, which includes players (active or inactive), coaches, managers, etc. It's a remote possibility that suspension of the involved federations can happen, but I find that highly unlikely.
INGLES: Under FIBA Internal Regulations, it can impose the following sanctions for players and officials who exhibit unsportsmanlike conduct (which includes physical abuse or acts which are detrimental to FIBA or basketball):
Warning
Reprimand
Fines
Suspension from official games
Ban from FIBA or FIBA-related activities
Community service to the basketball community
Combination of the above
The Philippine federation was suspended for internal disputes, can we expect heftier penalties considering people were actually hurt?
FLOJO: Highly unlikely that the federation will be suspended, in my opinion, since it's clear the SBP in an official capacity was not directly involved. The SBP may get a strong reminder about beefing up security and safety measures, though, especially in preparation for the 2023 WC. The previous suspension of the federation was mainly due to the instability of the previous federation (i.e. BAP). The SBP is stable, but this incident cast very unfortunate dark cloud on their reputation.
INGLES: I don't want to speculate, but the sanctions for internal disputes are different from disciplinary issues. But it'll all depend on FIBA and how they view the brawl.
What will merit a fine, a suspension and a ban?
FLOJO: Find that there's plenty to merit a fine and suspension for the personnel directly involved from both sides. The fighting alone will highly likely — if not most definitely—result in hefty fines and suspensions.
INGLES: It'll all depend on FIBA's findings. The Internal Regulations generally don't indicate specific sanctions for specific violations. Instead, it has a list of sanctions that the Disciplinary Panel may impose, depending on the gravity of the issue involved and the findings of the Panel.
Basing on the replays, who do you think will draw the heftiest fine/s?
FLOJO: Tough to call because FIBA will surely review countless times and consult with both BA and SBP. From a personal POV, perhaps AUS's Daniel Kickert and several from the PHI, especially those who threw closed fist punches and those who looked like they were ganging up on Chris Goulding will be given heavy penalties.
INGLES: I don't want to speculate on that.
How bleak does it look for assistant coach Jong Uichico following his direct involvement in the melee?
FLOJO: I'm sure coach Jong expects a hefty penalty headed his way. What the penalty is, specifically, I'm not sure.
INGLES: Again, I don't want to speculate on the punishment of specific individuals. But what he did can be considered unsportsmanlike that might possibly merit a sanction.
Japeth Aguilar's father Peter was also involved in the free-for-all. Will this, in any way, affect our World Cup hosting bid?
FLOJO: I don't think it will affect our hosting or it will result in the SBP's suspension, if that's what you're asking. Again, the SBP is not officially represented by any fan like Mr. Aguilar, but I wouldn't be surprised if the SBP is required to draft more stringent security and safety measures for future events.
INGLES: Yes, it may trace back to SBP as the host. Under FIBA Internal Regulations, the host federation is primarily responsible for the acts of the public, especially when it comes to safety and security of the players, coaches, and other members of the team.
China and Brazil's national teams figured in a brawl in 2010 which saw players and the Chinese team's coach suspended for a handful of games. Can we expect the same degree of punishments?
FLOJO: As far as fines and suspensions, perhaps this precedent could be a basis, but to expect exactly the same sanctions may not be realistic, given the nature of the Philippines-Australia game as an official World Cup qualifier as opposed to the "friendly game" between China and Brazil in 2010. But it certainly gives us the impression that player suspensions, probationary periods, and fines even for the federation have happened before.
INGLES: I'm not sure if FIBA follows precedent, but it seems like a notable comparison to what happened here — except that we had members of the public involved.
Serbia's Nenad Kristic was detained for being the main instigator of a brawl during a 2010 FIBA tournament in Greece. A chair was thrown by him, too. He was suspended for only three matches. Is it right for us to use that as basis of comparison for the looming sanctions on Gilas Players?
FLOJO: Again, this can be considered a precedent, but I'm not sure if the exact same sanctions will be given. I remember Krstic along with players from both Serbia and Greece being suspended for the 2010 FIBA WC that followed this SRB v GRE brawl, and so maybe that's something we can reasonably expect also — that a good number of our players will have to be lined up during the Qualifiers but end up not playing because of suspensions. But, again, this was not an official FIBA qualifier match, so perhaps heftier penalties may be given this time around.
SBP president Al Panlilio said that he hopes the incident won't affect our chances in the 2019 FIBA World Cup and our very hosting in 2023. How grim of a picture are we actually looking at?
FLOJO: It will affect our 2019 World Cup campaign in that the suspensions will force our coaches to dig deeper into our Gilas pool. Obviously, some of those players won't be able to make the same impact as, say, Andray Blatche or Jayson Castro — who were both directly involved in the incident — so our depth takes a big hit in the second round of the Asian Qualifiers, where we face Iran, Kazakhstan and Qatar. In those terms, the job to reach the 2019 WC in China gets much much tougher, but I don't expect Gilas to be outright disqualified because of the incident. I also don't expect it to greatly affect our 2023 hosting outside of, again, giving FIBA a very strong assurance (perhaps by drafting a comprehensive security plan) that this won't happen again.
INGLES: Again, I can't and don't want to speculate. But under FIBA Internal Regulations, FIBA may disqualify national federations (like SBP) for violations. So, theoretically, it may affect our chances.