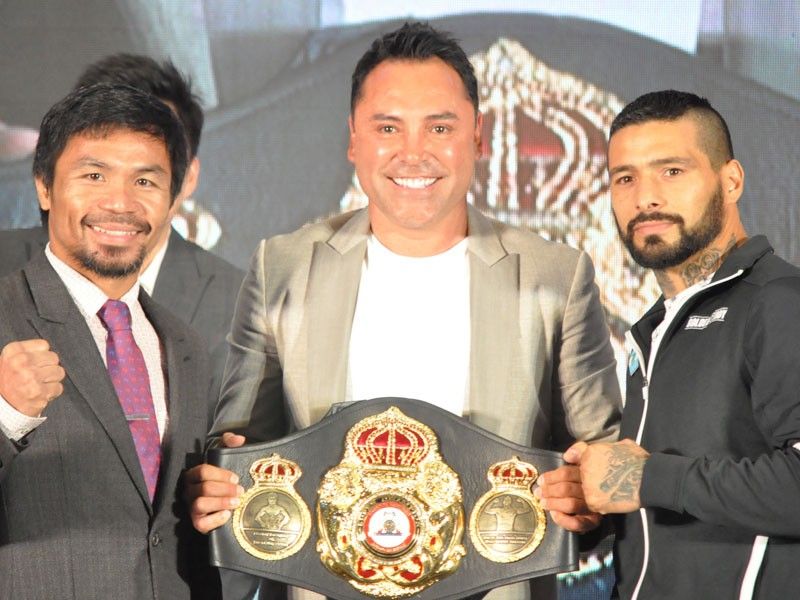 Oscar Dela Hoya, middle, holds the WBA welterweight championship that will be disputed by Manny Pacquiao and defending champion Lucas Matthysse on Sunday.
Abac Cordero
Dela Hoya shows up, showers Pacquiao with praises
KUALA LUMPUR – Oscar Dela Hoya made good on his vow to help Manny Pacquiao hype his title bout against Lucas Matthysse with a personal appearance at Thursday's final pre-fight conference at the Hilton Hotel here.
The boxing legend and now top promoter actually did more than that.
When it was his turn to speak at the dais, Dela Hoya — now happily retired as a boxer and working full time as head of Golden Boy Promotions — had nothing but kind words for Pacquiao.
"First of all, I want to tell Manny Pacquiao how proud I am of him," the 45-year-old multiple-division champion said. "Not only because he has become one of the most important legends in the sport of boxing but because he's a legend outside the ring."
"Manny Pacquiao has become one of the iconic figures that the sport has ever had. Why? Because he's building bridges between countries, he's attracting the youth to become fighters, to become warriors. He's giving them hope and opportunity. Manny Pacquiao is doing this through his fists, he's doing it through his heart because he loves to give back," he added.
Golden Boy, which handles Matthysse, is co-promoting Sunday's event with Pacquiao's MP Promotions. That will only further enrich the history between Dela Hoya and Pacquiao.
Dela Hoya, wearing a white shirt with a beige coat and matching slacks, went on to recount the first time he crossed paths with Pacquiao — when the Filipino stunningly stopped Marco Antonio Barrera 2003 in a fight Dela Hoya was then promoting.
"At that time nobody knew who Manny Pacquiao was, but after he beat Marco Antonio Barrera, the world knew what Manny Pacquiao is going to become. A champion in eight different divisions, an iconic figure," he continued.
Sometime in his career, Pacquiao even signed with Golden Boy to join its stable of stars, an act that paved the way for a legal dispute with rival Top Rank Inc., which had the promotional rights to Pacquiao.
Pacquiao and Dela Hoya would eventually have business together, but as actual opponents in the ring. It turned out to be the last fight for Dela Hoya, as Pacquiao battered him their one-sided match in 2008, sending him to retirement.
Dela Hoya has since kept tabs on Pacquiao's activities even outside the ring, aware of the Filipino icon's philanthropic efforts and commitment to further develop boxing talents as a fellow promoter.
"I really feel that it was your destiny to become the person that you are today. So I salute you," he said.