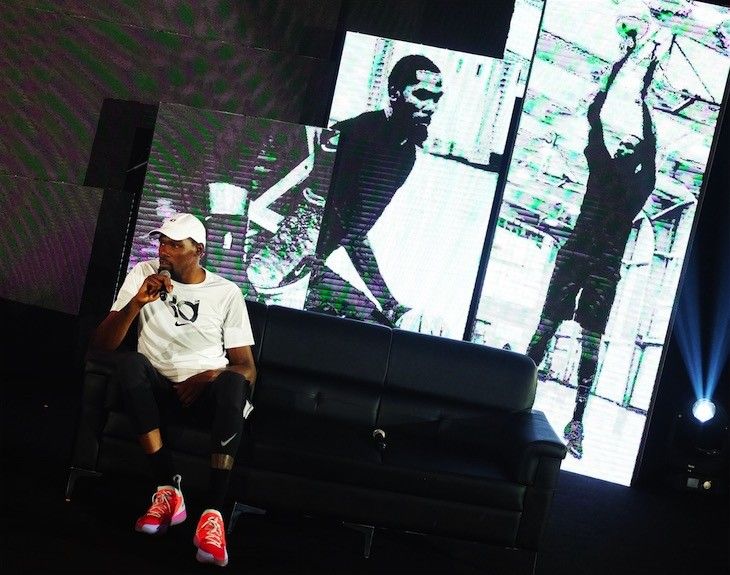 Golden State Warriors forward Kevin Durant during an "unplugged session" at Whitespace in Makati City last Sunday.
PhilStar.com Photo/Denison Rey A. Dalupang
Durant on Warriors' 3-peat bid: One game at a time
MANILA, Philippines — After winning two straight NBA titles, Golden State's Kevin Durant is aware that the challenge of winning a three-peat has begun hovering over his team.
Durant, who in an "unplugged session" during his stop here for a promotional tour with Nike, bared that the Warriors only talk about a championship campaign only when they're playing in the Finals.
"When you have a championship team, that's always the goal to reach but we never talk about the championship or holding up the trophy until we're actually playing for it," he said during a chat at Whitespace in Makati last Sunday.
"I think it's just going about your day, each day, putting the work in, being consistent with your habits, that's going to build you up and hopefully putting ourselves in a great position to win three in a row," he added.
There had been only six three-peat occurrences in the NBA and only three teams were able to achieve such a rare feat. They are the Lakers, Celtics, and the Bulls. The franchise from Boston won eight straight in the span of 1959 through 1966.

Durant, said if there's any mindset that the Warriors subscribe to, it's the day-to-day mentality to reach the grandest stage of the NBA playoffs.
"We got to worry about every single day and how we can build those days up to where we need to get to, which is the Finals," he noted.
For now, he and the Warriors, Durant shared, are just enjoying a "masterpiece."
"It's just signing off a perfect piece of art, a perfect canvas you sign off. I felt like that was Game Four of the Finals is that we created this amazing masterpiece throughout the season.
Now we can just chill and let it dry for a bit, which is the whole summer, and get back to work next season," he said.
"I think everybody's excited that we entered into, I want to say a different realm of success when it comes to a team but we're still not satisfied, want to be even better," he declared.