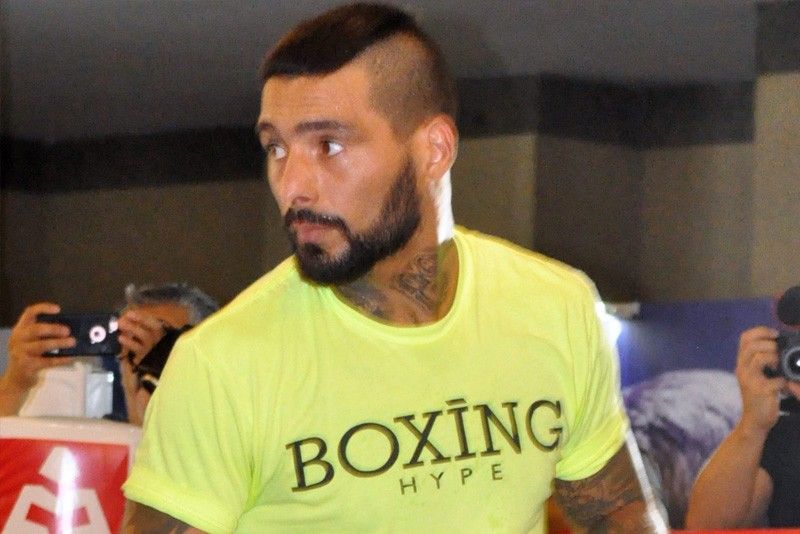 Lucas Matthysse works out before members of the press.
Abac Cordero
Donaire says Matthysse can't be taken lightly
MANILA, Philippines — Former world flyweight, interim superflyweight, bantamweight, superbantamweight and featherweight champion Nonito Donaire, Jr. warned Manny Pacquiao not to take WBA welterweight champion Lucas Matthysse of Argentina lightly when they clash in the Fight of Champions at the Axiata Arena in Kuala Lumpur on Sunday.
"I expect a really good fight," said Donaire in an overseas phone call from his home in Las Vegas. "Matthysse's no joke. It will be a big test for Manny and an opportunity for him to showcase what's left in his tank. Personally, I think he's got a lot left in his tank and he'll show it on Sunday. But Matthysse can punch and he's tough. He's a very strong fighter. Give him due respect, he's the defending world champion, after all."
Donaire said what makes Matthysse a dangerous proposition is his punching power. The Argentinian has scored 36 KOs in 39 wins, a remarkable 92 percent KO rate. Matthysse is expected to use his most potent weapons, the left hook and right straight, in trying to spoil Pacquiao's comeback.
Donaire said he has no doubt that Pacquiao will win. "If he's focused and disciplined, Manny should win by a knockout or a clear win on points," he said. "From what I've read in media, Manny has worked hard in training and he's coming in prepared to win convincingly. It's not likely to go the distance. Matthysse won't be difficult to hit because he comes forward."
Donaire said he's excited for his father Nonito, Sr. who has joined Pacquiao's team in assisting head trainer Buboy Fernandez and conditioning coach Justin Fortune. "I haven't spoken to my dad but from his posts in social media, it looks like Manny's team is very confident of victory because of how Manny has worked in the gym," he said. "I know what my dad is capable of and I'm happy that he was given the chance to work with Manny."
Donaire said Matthysse's ability to take Pacquiao's punches will be put to a severe test. "Manny will connect for sure but I'm curious to find out if Matthysse can take his punches," he said. "I watched Matthysse's fight against (Viktor) Postol. He went down and took the full count after his left eye was banged up. It will be a different fight with Manny. Postol, who's taller and rangier than Matthysse, punched down and found angles for his shots. Manny is shorter than Postol and he'll go under Matthysse's defense instead of over. It's not necessarily a bad thing for Manny because he's knocked out bigger opponents in the past. I just think Manny is too fast for Matthysse. Manny's speed and punching volume will dictate the fight."
Donaire said it's not easy to beat Pacquiao. "Matthysse will find out how difficult it is to defeat Manny," he said. "Matthysse's tough and strong but Manny has the ability to outbox him. If Matthysse tries to box Manny like he did against Ruslan (Provodnikov), he won't succeed. If he comes forward and engages, Manny will pick him apart. I see Manny becoming a world champion again."