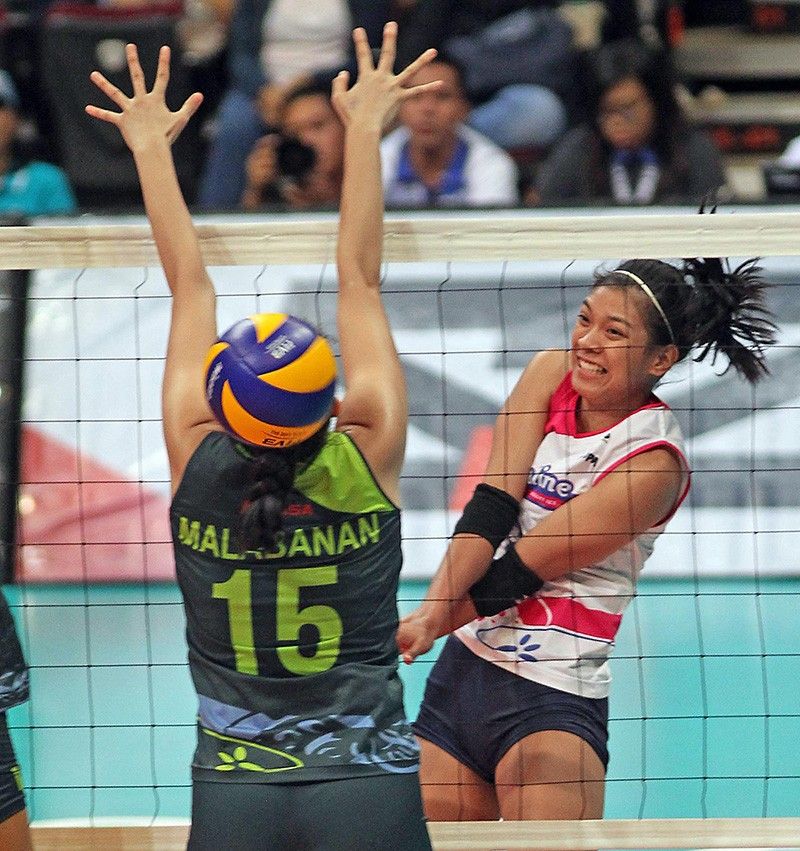 The ball goes to the head, literally, of Jerilli Malabanan of PayMaya – and stays there – after a net skirmish with Alyssa Valdez of Creamline in the opener of their best-of-three PVL title series at the MOA Arena last night.
Jun Mendoza?
C Smashers halt High Flyers
MANILA, Philippines — Creamline fell short of its fightback late in the second frame but shifted to high gear in the next two as it drubbed PayMaya 25-21, 22-25, 25-20, 25-19, to edge closer to a first crown in the Premier Volleyball League Season 2 Reinforced Conference at the Mall of Asia Arena in Pasay last night.
Thai import Kuttika Kaewpin, Alyssa Valdez and reinforcement Laura Schaudt took turns in the firing end for the Cool Smashers in the third and fourth sets to bring down the erratic High Flyers and move a win away from bagging the elusive crown after two third place finishes in last year's inaugurals of the league organized by Sports Vision.
Kaewpin turned in an all-around game of 19 points, 15 excellent receptions and 11 digs, Valdez punched in 18 markers and 11 digs while Schaudt peppered the opposition with quick attacks in the fourth and laced her 13-point output with four blocks.
"We didn't play a five-setter in the semis so I think that's our advantage because we have more energy left towards the end of the game," said Valdez.
"But we know that PayMaya will bounce back and Grethcel Soltones, Tess Rountree and the rest will never back down," she added.
Creamline guns for the clincher on Wednesday at the same venue.
After falling short in their comeback from 18-22 down in the second set, Creamline stretched a 12-9 lead in the third to 22-17 as PayMaya sputtered with seven errors while Kaewpin took care of the Cool Smashers' offense.
Creamline then raced to an 11-6 advantage in the fourth behind an ace by Risa Sato and back-to-back blocks by Valdez and Schaudt.
Schaudt, Valdez and Kaewpin then sustained the demolition for a 20-13 lead, and forged ahead with the former Ateneo star closing the match on a kill.
Earlier, import Madeline Palmer stepped up and gave Pocari Sweat-Air Force a huge lift in the last two frames as the Lady Warriors rallied past BanKo-Perlas, 25-22, 17-25, 16-25, 26-24, 15-11, to close in on third place honors in the league backed by Mikasa and Asics.