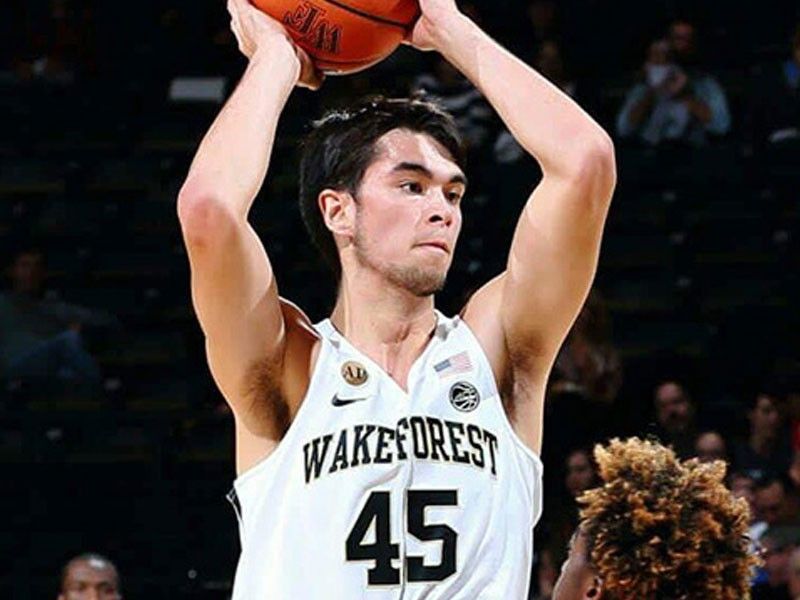 While Troy Edward Rike has no outstanding numbers to show with Wake Forest, he has made an impression with Gilas coaches as a "system player."
Photo from Wake Forest University's Twitter (@WakeMBB)
Fil-Am forward from Wake Forest candidate for Gilas-Taipei match
MANILA, Philippines – Six-foot-7 Gilas cadet Troy Edward Rike is an option as a stretch forward along with Troy Rosario and Carl Bryan Cruz in the 15-man Gilas pool that flew to Taiwan Monday for the Philippines-Chinese Taipei rematch in the FIBA World Cup qualifiers on Friday at the Taipei Heping Basketball Gymnasium.
The Fil-Am player from Wake Forest, the same school that produced Tim Duncan, is a Gilas newcomer, joining 14 Gilas regulars who are in consideration for the Friday match where Team Philippines looks to improve the win-loss record that it's carrying over to the second round of the World Cup eliminator.
Rike arrived in Manila just this month, in time for the Gilas cadets' final match in the FilOil Flying V Preseason Cup on June 4. He then worked out with those who were available in the run-up to Gilas' departure for Taipei.
He has played four seasons with Wake Forest after playing high school ball with St. Ignatius College Prep. His Filipina mother Veronica played collegiate tennis at the University of San Francisco.
He has no outstanding numbers to show with Wake Forest, but made an impression with Gilas coaches as a "system player."
"He follows the system. He won't go away from the system, which is also what we need in this team because the rest are all high-caliber, supposedly superstar players. So you need someone who's a system player," said Gilas assistant coach Jong Uichico of Rike.
Head coach Chot Reyes and the rest of the Philippine contingent left the country at noon Monday. They're to arrive in Taipei at around 2 p.m. and, after a brief rest, would have an afternoon practice at a small city sports center.
They are set to hold practice at the Taipei Heping Basketball Gymnasium only on the eve of the crucial game.
Andray Blatche, June Mar Fajardo, Japeth Aguilar, Jayson Castro, Matthew Wright, RR Pogoy and Gabe Norwood could well be the shoo-ins.
Others in the 15-man pool are Calvin Abueva, Terrence Romeo, Jio Jalalon, Baser Amer and Allein Malicsi.
Castro topscored with 20 points, Fajardo produced 17 points, eight rebounds and two assists while Wright and Pogoy chipped in 11 points apiece as the Nationals overcame a gritty Taipei side, 90-83, in their first matchup over at the Smart Araneta Coliseum in November.
Apart from the win over Taipei, Team Philippines has completed a two-game sweep of Japan and dropped its "away" game versus Australia for a 3-1 win-loss card.
Australia paces Group B with a clean 4-0 slate while Chinese Taipei is at third at 1-3 and Japan fourth and last at 0-4.
The top three in Group B will advance to the next round versus the top three in Group D, which is currently led by Iran and Kazakhstan with identical 3-1 marks followed by Qatar and Iraq both at 1-3.
The top three from among the eight teams in Groups B and D automatically make the 2019 World Cup in China.