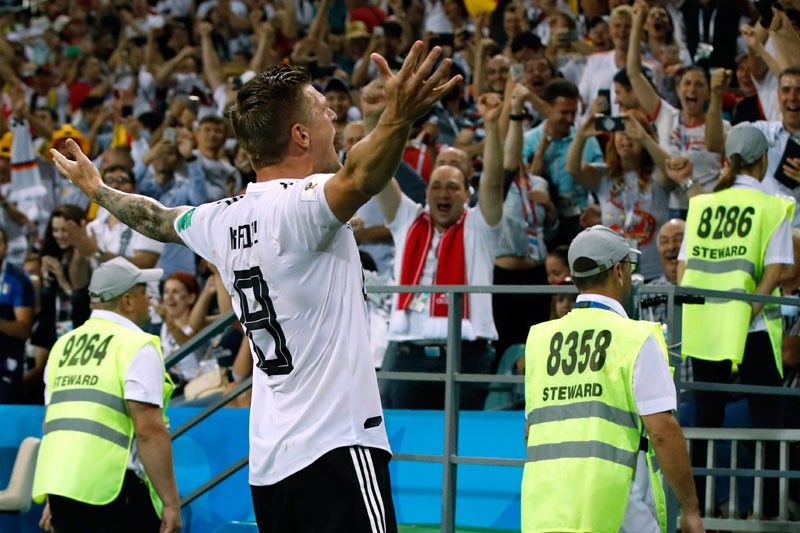 Germany's midfielder Toni Kroos celebrates with supporters after scoring a goal during the 2018 World Cup match against Sweden.
AFP
(Associated Press) - June 25, 2018 - 12:00am
FIFA World Cup scheduleGroup Stages (3 of 3)
June 25
10 p.m. – Uruguay vs Russia*
10 p.m. – Saudi Arabia vs Egypt *
June 26
2 a.m. – Spain vs Morocco
End of 2nd of 3 group matchups
2-1 Blast From Behind Enemy Lines
SOCHI, Russia – The desperate world champions from Germany were seconds from losing control of their World Cup fate when Toni Kroos whispered to Marco Reus just outside Sweden's penalty area.
With the score tied in the fifth minute of stoppage time, Kroos seemed to remind Reus of a tricky set play from training that will live in World Cup lore.
Down to 10 men after Jerome Boateng was given a second yellow card, Germany rallied for a 2-1 victory over Sweden on Saturday to suddenly revive its title defense thanks to a strike from Kroos that caught the Swedes by surprise and won't soon be forgotten in Germany.
"The fact Toni Kroos put it away is just incredible," Reus said. "He's shown that talent on previous occasions but really in this case it was practically the very last opportunity to win this match."
Kroos lined up for a free kick as if he was going for goal but just tapped the ball to Reus, who held it with his toe as the defenders paused. Kroos swung his right foot, curling the ball past a spinning Sebastian Larsson and over the outstretched hand of diving goalkeeper Robin Olsen.
The Swedes watched the ball go in, mouths open in disbelief.
The Germans ran to Kroos and erupted in emotional relief.
"Happy of course. It was a tough game again today for us," Kroos said. "We suffered. ... If you don't score an early goal and we have the chances then it's going to be difficult until the end. It was, but now of course we're happy because I think we also deserved the victory."Coming off an opening loss to Mexico, Germany fell behind again when Kroos' early mistake led to Ola Toivonen's goal in the 32nd minute. Reus equalized in the 48th. A point for a draw would have been enough to stay alive for the knockout stage, but the Germans would have needed help on the final day.