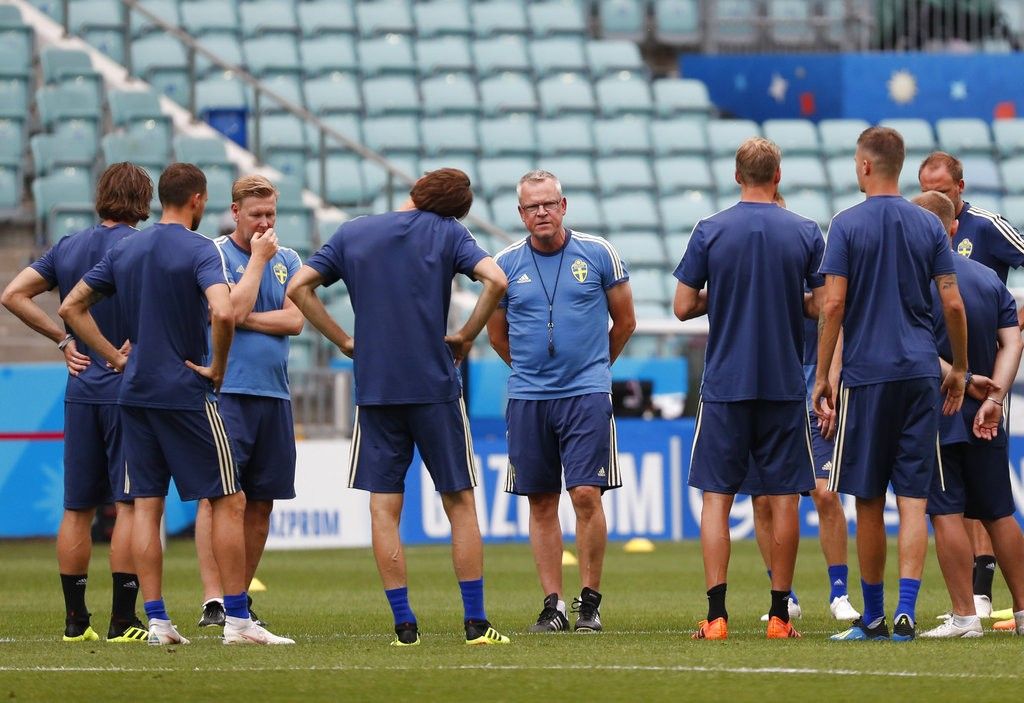 Sweden national soccer team players gather around head coach Janne Andersson, center, at the start of a training session on the eve of their Group F match against Germany, during the 2018 soccer World Cup in Sochi, Russia, Friday, June 22, 2018.
AP Photo/Rebecca Blackwell
Illness, injury could leave Sweden short against Germany
(Associated Press) - June 22, 2018 - 10:18pm
SOCHI, Russia — Sweden could be missing a few players for Saturday's group match against defending champion Germany because of illness and injury.
Three players, including starting central defender Pontus Jansson, remained in Gelendzhik on Friday after becoming ill with a stomach bug while the rest of the team flew to Sochi. In a statement posted on the Swedish Football Association website, team doctor Anders Valentin said defenders Jansson and Filip Helander, and midfielder Marcus Rohden all became ill on Thursday night. Unsure if the illness was contagious, the decision was made to keep the three players behind at Sweden's training base.
Sweden coach Janne Andersson said the hope is the three will be feeling well enough to travel to Sochi on Saturday and join the squad ahead of the match against Germany. Jansson was thrust into a starting role for the opening match against South Korea after Victor Lindelof became ill.
"We have no one else showing signs of illness," Andersson said. "We hope it will continue on the path we are seeing right now."
Illness isn't the only issue Sweden is dealing with. Forward Isaac Kiese Thelin hurt his ankle in practice and did not train on Friday when the Swedes worked out at Fisht Stadium. Kiese Thelin came on as a substitute in the 77th minute of the opener against South Korea.
The health of Jansson is the biggest question for the Swedes considering the uncertainty of who will play alongside Sweden captain Andreas Granqvist. Jansson ended up starting against South Korea because Lindelof was unable to play. If Lindelof is healthy enough to play against Germany that will ease some of Sweden's concerns as the Manchester United defender has been the top choice for Andersson. But depth could then become an issue if Jansson isn't healthy.
"You can't be annoyed with poor people who have stomach pains. That's just not OK," Andersson said. "It just happens occasionally. ... We're doing the best we can with this current scenario."
Sweden would certainly prefer to have a first-choice roster facing the defending champions, especially with the situation facing the Germans after losing to Mexico in the opener and needing at the very least a draw to keep alive its hopes of advancing to the knockout round.
Granqvist said the proof of Sweden's ability to play with top competition came in just getting to the World Cup by outlasting the Netherlands in the group stage and defeating Italy in the European playoffs.
"We've played together for a two-year period," Granqvist said. "We've seen excellent results against teams ranked above us."