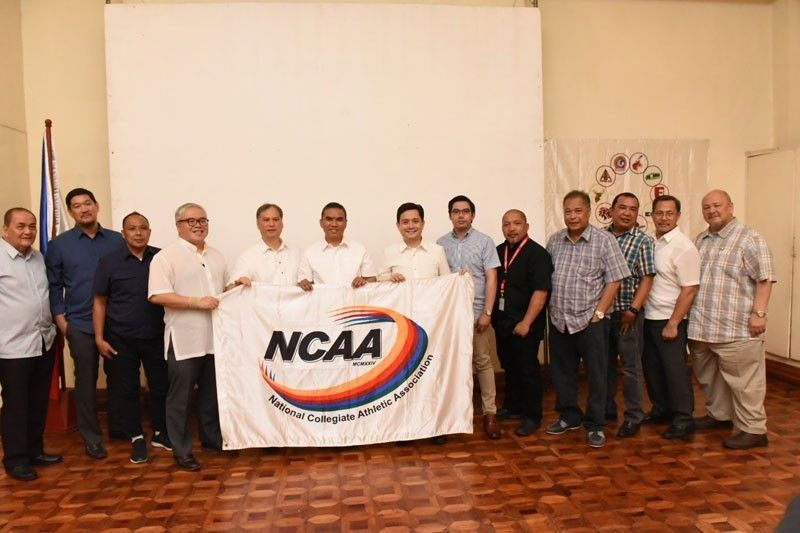 Perpetual Help president Anthony Tamayo, seventh from right, receives the NCAA flag from Fr. Nemesio Tolentin of San Sebastian, sixth from left, during the formal NCAA turnover rights at the Casa Espanol in Ermita, Manila last April. Perptual Help will host Season 94 of the country's oldest collegiate tournament.
NCAA joins fight vs game-fixing
MANILA, Philippines – The NCAA has thrown its full support to the House of Representatives in its fight against "game-fixing" via House Bill 5032 or "Anti-Game Fixing Act."
League president Anthony Tamayo of Season 94 host Perpetual Help has submitted a position paper to the lower house about the issue following the recent filing of the new bill co-authored by 1-Pacman Congressmen Enrico Pineda and Mikee Romero.
The NCAA, through its legal counsel Atty. Joseph Estrada, defined game-fixing as an act referring to "any arrangement, combination, scheme or agreement made by any persons who, for valuable consideration or monetary gain, maliciously conducts or cause to be conducted any game, race or sports competition, the outcome of which shall be predicted or known to other than on the basis of the honest playing skill or ability of the players or participants or in a manner that would remove or otherwise undermine the competitive nature of the game or sport, in order to predetermined result."
NCAA Management Committee chair Frank Gusi, for his part, said the league will not condone game-fixing.
"When you get into game-fixing, consider yourself half-dead and your life will be ruined," said Gusi in Tuesday's public service Philippine Sportswriters Association Forum at the Tapa King in Farmers Market in Cubao, Quezon City.
"We know it is hard to prove, but the NCAA will ban for life all league personnel who will be proven to be involved in game-fixing," he added.
Meanwhile, Gusi said the NCAA has also decided to allow all its foreign players to see action only until Season 95 next year.
One of the players that will be affected by the recent decision is Nigerian Toba Eugene of San Beda, whose eligibility is until Season 96 or 2020.
"Foreign players will get to play until Season 95, that's the recent NCAA decision," said Gusi.
Gusi also announced the NCAA has decided to make volleyball a mandatory sport alongside basketball, track and field and swimming.
"It means all NCAA schools will have to join in the juniors, women's and men's divisions of all aforementioned sports events," said Gusi.
The NCAA will start on July 7 at the MOA Arena in Pasay City with defending champion San Beda battling Perpetual Help at 2 p.m. and last year's runner-up Lyceum of the Phl U clashing with San Sebastian at 4 p.m.
Gusi also bared the schedule of the "NCAA on Tour" set on July 12 at the Jose Rizal Gym, on July 19 at the Arellano U Gym, on July 26 at the Emilio Aguinaldo Gym, Aug. 2 at the Letran-Calamba Gym, and on Aug. 9 at the Perpetual Help Gym.
Arturo "Bai" Cristobal will be league commissioner and will tap a new set of referees also officiating in the Maharlika Pilipinas Basketball League.