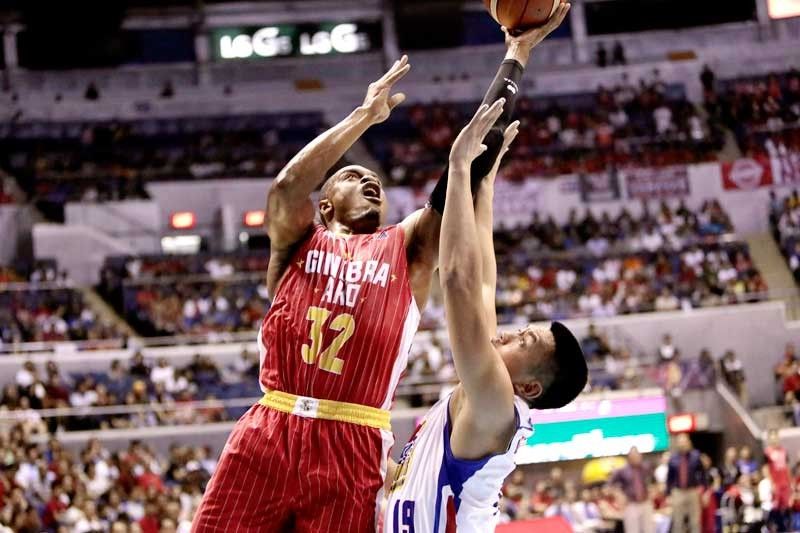 Ginebra's Justin Brownlee controls the rebound against Magnolia's Rome dela Rosa in Sunday's game won by Ginebra, 104-84.
Kings firm up bid, get Jeff Chan in trade
MANILA, Philippines — Barangay Ginebra loaded up its arsenal going to its critical last three games in the PBA Commissioner's Cup elimination round as it acquired gunner Jeff Chan through a trade deal with Phoenix Petroleum yesterday.
Phoenix Petroleum, on the other hand, netted Ginebra's first round pick in the coming PBA draft while giving away Chan – and his good averages of 11.5 points, 4.4 rebounds, 4.1 assists and 1.22 steals – going to its virtual knockout games versus GlobalPort and Alaska Milk.
Ginebra coach Tim Cone said they had long been after the services of Chan whom he sees as a player who can lift his team to a higher level.
"Jeff obviously fills a big hole for us. His ability to spread the floor for Greg (Slaughter) and Japeth (Aguilar) could spell the difference," said Cone.
"It's always tough to give up a part of your future through first round picks. But if we can get two or three good years from Jeff, then the sacrifice of our first round pick will be worth it," Cone added.
Phoenix Petroleum top official Raymond Zorrilla, meanwhile, said they're looking at the future in accepting the trade deal with Ginebra.
"Taking into consideration coach Louie Alas' system, we need young players. And here comes Ginebra's draft rights. The opportunity presented itself and we grabbed it," said Zorrilla. "This player (from the draft) may be raw but he would have the energy and athleticism that we need in our team."
But Zorrilla insisted they would still fight hard to salvage a playoff spot in the current tourney even if they are buried deep down the team standings at 3-6.
"All these players are professionals. If one player moves out, the others should step up," said Zorrilla.
"We've been winning three-fourths of our games, and we just can't get over the hump. That's our concern," he pointed out.
Chan exploded for 26 points in their last game but Phoenix still came up short in a 106-108 loss to Rain or Shine.
At 34, Chan is still in tip-top shape.
In the recent PBA All-Star festivities, the Negrense hotshot emerged as the biggest star in the event's last stop in Iloilo City, leading the Visayas team to a 157-141 win over Smart Team Phl.
He fired away 29 points and claimed the MVP plum. He had an earlier All-Star MVP citation in 2013.