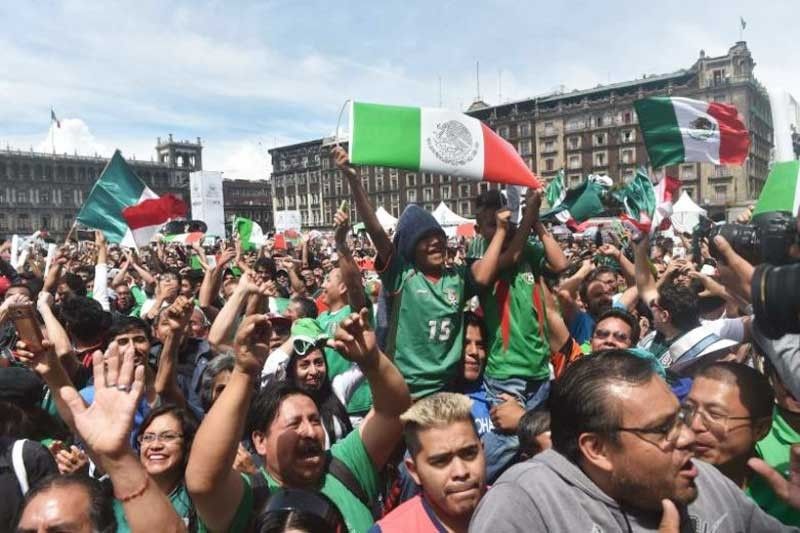 Mexican fans celebrate at the Zocalo square.
AFP
Muy Bien, Hombres: Despite shock loss, Germany vows to advance
(Associated Press) - June 19, 2018 - 12:00am
MOSCOW – Germany didn't play the way it usually plays. Coach Joachim Loew isn't sure why.
Stymied by Mexico's skillful forwards and speedy counterattacks, the defending World Cup champions played a sloppy first half, gave up too many chances and ultimately conceded a goal that held up in Mexico's 1-0 victory on Sunday.
"We looked nervous and we were not able to play the way we wanted to play," Loew said. "We will have to analyze why that was the case."
Germany is now in an unfamiliar position. The squad had not lost a World Cup opener since 1982 and won its four previous initial matches by a combined score of 20-2.
For a defending World Cup champion, however, the situation is more common. Three of the past four have failed to make it out of the group stage.
Reminded of that statistic, Loew offered a guarantee.
"We will not suffer that fate," he said. "We will make it to the next round."
Germany's path through Group F includes a match against Sweden next Saturday, and it then faces South Korea on June 27.
"As far as the psychological situation, everyone is unhappy, crestfallen," Loew said. "We have to look forward. We have to put this behind us. Our team certainly has experience dealing with losses, and the next match will be decisive for us. We have to win it. It goes without saying."
Although they breezed through qualifying, the Germans had enough questionable results in recent friendlies to put fans on edge, and Loew was questioned for leaving 22-year-old Manchester City winger Leroy Sane out of his squad.