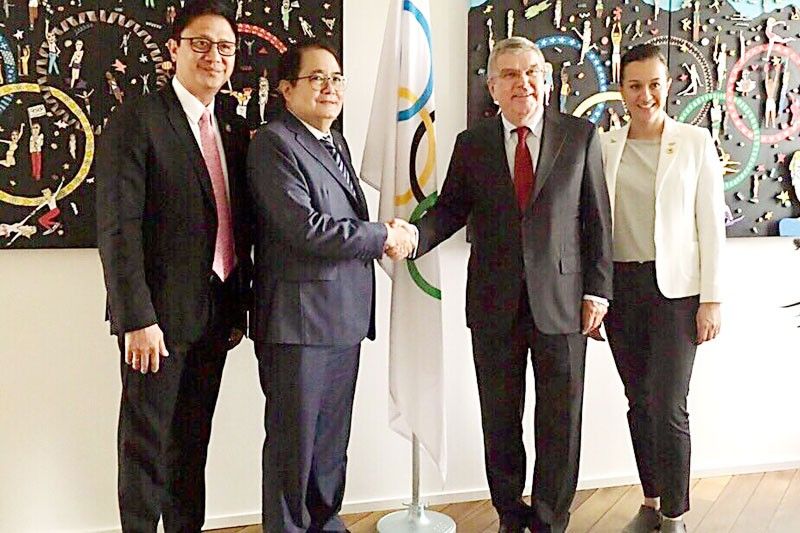 POC president Ricky Vargas meets IOC president Thomas Bach with POC secretary-general Patrick Gregorio (left) and IOC member Mikee Cojuangco-Jaworski at the IOC office in Lausanne.
twitter.com/PhilippineStar
POC execs confer with Bach
MANILA, Philippines — POC president Ricky Vargas conferred with IOC president Thomas Bach on a wide range of topics, including the Philippines' active participation in the Olympic Solidarity program, in an afternoon meeting at the IOC head office in Lausanne, Switzerland, last Wednesday.
Vargas was accompanied by IOC member Mikee Cojuangco-Jaworski and POC secretary-general Patrick Gregorio while Bach was joined by IOC deputy director-general for relations with the Olympic movement, head of relations with National Olympic Committees and director of Olympic Solidarity Pere Miro.
Vargas said he was inspired by Bach in their 45-minute meeting. "Mr. Bach assured us that the Philippines is an important member of the IOC," said Vargas. "He advised me to enjoy my job and talked about the values of collaboration, getting engaged, friendship and building relations. Mr. Bach reiterated that collaboration is the culture of the IOC and strongly encouraged us to take advantage of Olympic Solidarity. I also brought up our aspiration of earning our first Olympic gold medal."
Bach, 64, was elected to an eight-term as IOC president in 2013 and will be eligible for re-election for a second six-year term next year. A German lawyer, Bach won a gold medal in the team foil event of fencing at the 1976 Olympics. He has been at the forefront of instituting major reforms in the IOC, particularly on the selection process of host nations for Olympic events and a serious crackdown on doping.
The POC executives also had extensive discussions with officials of the IOC sports and games management departments and the IOC commissions on athletes, athletes entourage and sports and active society. A separate lunch meeting was held with Miro. The visiting delegation took a tour of the 3,000-square meter, three-storey Olympic Museum after the meeting with Bach. The museum features three themes – Olympic World which chronicles the evolution of the Olympics from ancient to modern times, Olympic Games with over 1,000 video clips of action highlights and Olympic Spirit which provides the atmosphere of an Olympic Village and invites guests to participate in interactive exercises.
"What impressed me most in the museum was the clarity of vision of the Olympic movement, why it continues to be relevant and how it has been a vital contributor in the development of political relationships among countries of the world," said Vargas.
Gregorio said a key lesson learned from the trip was that the culture and spirit of Olympism is not just in competition but in sports management and administration. "As the Olympic founder Baron Pierre de Coubertain pointed out in 1918, Olympism is not a system, it is a state of mind (and) the most widely divergent approaches can be accommodated in it and no race or time can hold an exclusive monopoly on it," said Gregorio.
The IOC has approved a budget of $509 Million for Olympic Solidarity from 2017 to 2020. Miro, a Spaniard, is in charge of allocating subsidies from the general fund to NOCs all over the world for athletes' development and education, training of coaches and sports administrators and promoting Olympic ideals.
There were 12 Filipino athletes who received a monthly allowance of $500 each from Olympic Solidarity in the run-up to the 2016 Olympics. During former POC president Jose Cojuangco's term, 10 athletes were chosen to receive the same amount in preparation for the 2020 Olympics. The 10 athletes now enjoying support from Olympic Solidarity are Pauline Lopez, Francis Agojo and Rheza Aragon of taekwondo, Nicole Tagle, Pia Bidaure and Rogelio Tremedal of archery, Jayson Valdez and Amparo Acuna of shooting and Orencio de los Santos and Rexor Tacay of karate.