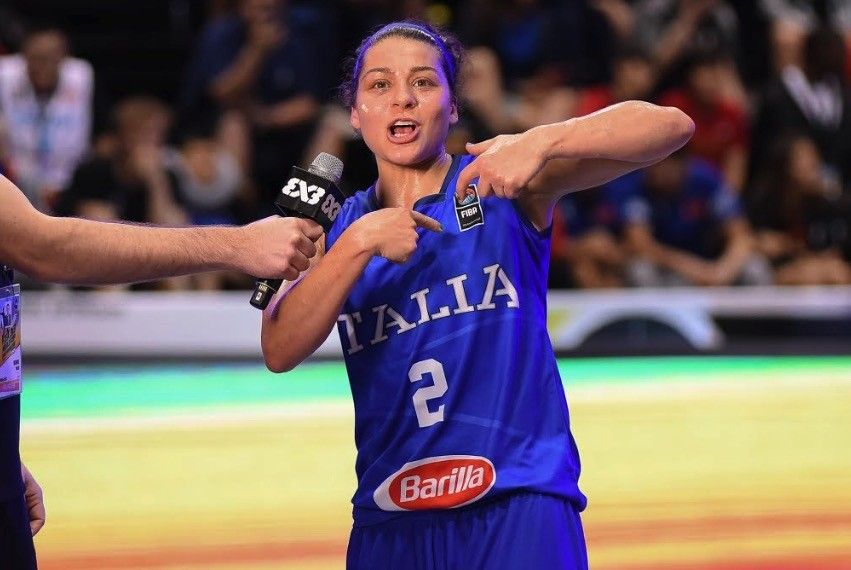 Rae Lin D'Alie of Italy crediting her and her team's "puso" when interviewed after toppling top-seed China in the FIBA 3x3 World Cup Tuesday night.
Contributed Photo/Joaqui Flores
Italy's D'Alie captivates Pinoy fans at FIBA 3x3 worlds
MANILA, Philippines — The Filipinos weren't the only ones who typified "puso" in the FIBA 3x3 World Cup, which wrapped up on Tuesday at the Philippine Arena in Bocaue, Bulacan.

Rae Lin D'Alie of Italy showed she has a heart bigger than her foes' en route to the women's 3x3 Women's crown.

Standing at just 5'4", D'Alie, before the Filipino crowd, mounted a dazzling performance from the global skirmishes' beginning through its end: she made tough shot after tough shot, uncorked crafty passes; heck, she even made her taller assignments struggle in rebounding.

"There's going to be a lot of limits in life, but at the same time, those can become your strengths and if you surround yourself with a community, in a group of people who work together," she said.


"They cover my weaknesses," the 30-year-old crowd darling said of her teammates. I'm small. my teammates have my back, so I think that's that if you continue to do that," D'Alie, who yelled "puso" — the Philippines' rallying cry — shortly after disposing of top-seeded China in the semifinal.
The Italian cager led the women's column in scoring with 52 points and went home as the distaff side's Most Valuable Player. She then credited Filipino fans for the unwavering support.
"You guys are probably working all day, you guys probably have stuff to do, and yet, you decided to come out to support 3x3. We wanna say thank you," she shared during post-game presser.
"I think if you just love people and just spread light, it's gonna come back, " she offered. "And I saw that. A lot. The staff at the hotel and here at the arena, and it's just like energy — you feed off on another."
RELATED VIDEO: