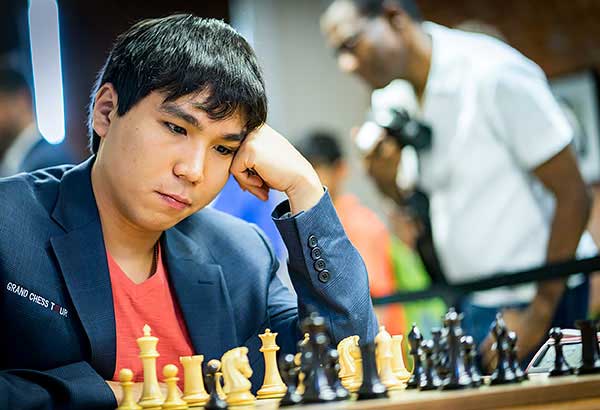 So rebounds, gains solo lead in Belgium chessfest
MANILA, Philippines – Wesley So got back at United States teammate Fabiano Caruana and then scored 1.5 points the next two rounds to seize the solo lead after three rounds of the Your Next Move Grand Chess Tour 2018 in Leuven, Belgium Tuesday night.
A week after blowing his title chances with a final round defeat to Caruana in the Altibox Norway Chess, So made sure he cashed in on this one and blew away the former with a 48-move win of a Ruy Lopez duel in the opening round.
It was a triumph that more than made up for So's heartbreaking loss to Caruana in the last round of the Norway tilt.
In that game, So blew away his winning and drawing chances with painful blunders in time scramble. Had So won, he would have clinched the title outright while a draw will create a four-player playoff for the title.
So didn't allow it to happen again this time.
The Cavite-born, Minnetonka, Minnesota-based So followed it up with an emphatic 52-move win over Azerbaijan's Shakhriyar Mamedyarov of a Gruenfeld showdown in the second round. He then split the point with France's Maxim Vachier-Lagrave in 44 moves of a Nimzo-Indian Defense to zoom to the top with five points since two points is given to a win and a point to a draw.
So was one point ahead of Russia's Sergey Karjakin and Armenia's Levon Aronian, who had four points apiece.
So is participating in a tournament that serves as the first stage of the 2018 Grand Chess Tour, which stakes a total prize fund of $150,000.
The fourth to sixth rounds were being played as of posting time while the final three rounds of this rapid event are set tonight.
The tournament concludes with 18 rounds of blitz games on Friday and Saturday.