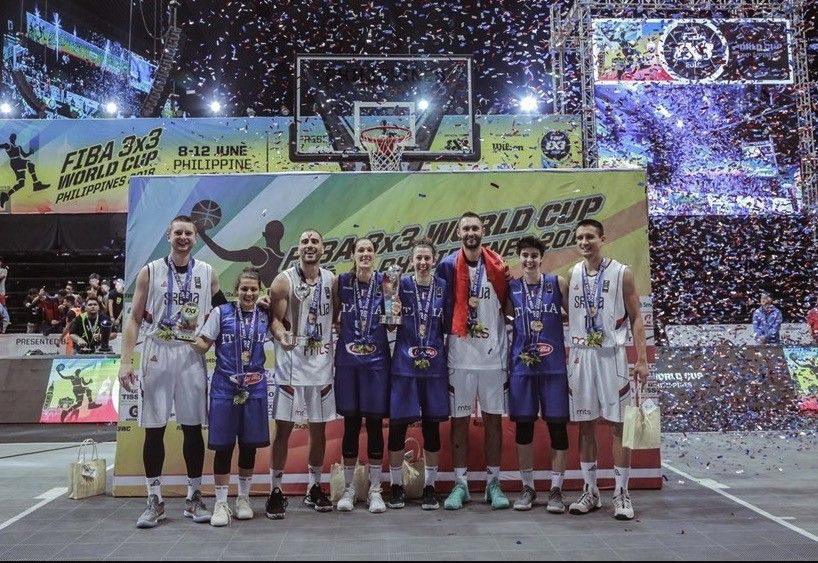 The Serbian men's and Italy women's team were crowned champions in the FIBA 3x3 World Cup on Tuesday night at the Philippine Arena in Bocaue, Bulacan.
FIBA.com photo
Serbia, Italy reign in FIBA 3x3 World Cup
BOCAUE, Bulacan — Serbia and Italy carved out respective historic performances in the finals of the FIBA 3x3 World Cup Tuesday night at the Philippine Arena.

Men's division champion Serbia notched their third straight crown in the global contest after disposing of the Netherlands, 16-13; while a newly assembled Italian crew secured their first-ever international medal at the expense reigning distaff side titlists Russia, 16-12.

Dusan Bulut flashed his lethal form, scoring seven points to pace the Serbians. Stefan Stojacic added four in the effort, Marko Savic, while top-ranked Dejan Majstorovic tallied two.

Jesper Jobse buoyed the Dutch's offense with six points But his heavy lifting — paired with Sjoerd Van Vilsteren's four points --couldn't tow the team past their 2016 tormentors.

"We didn't play our best game, that's for sure," Bulut said. "I think we can do much, much better, and you know, for me, I didn't know I was gonna play in this roster ... But this championship? Nobody can take this from us."
Meanwhile, Rae Lin D'Ailie leaned on the crowd's energy to lead her crew — ranked 15th globally — past the fifth-ranked Russians. She finished with seven points, making a couple of scrappy plays en route to her team nothing the title.

"This team has been together particularly for 3 weeks but it's been grinding for a while. This is the fruit of a lot of hard work," said D'Ailie.


Both Bulut and D'Ailie were named the tournament's Most Valuable Players.
The next World Cup will be hosted by Amsterdam.


The Scores:

Men's Finals

SERBIA 16 — Bulut 7, Stojacic 4, Savic 3, Majstorovic 2.

NETHERLANDS 13 — Jobse 6, Van Vilsteren 4, Van der Horst 3, Roije 0.

Women's Finals

ITALY 16 — D'Alie 7, Rulli 4, Ciavarella 3, Filippi 2.

RUSSIA 12 — Leshkovtseva 4, Logunova 3, Stolyar 3, Sapova 2.