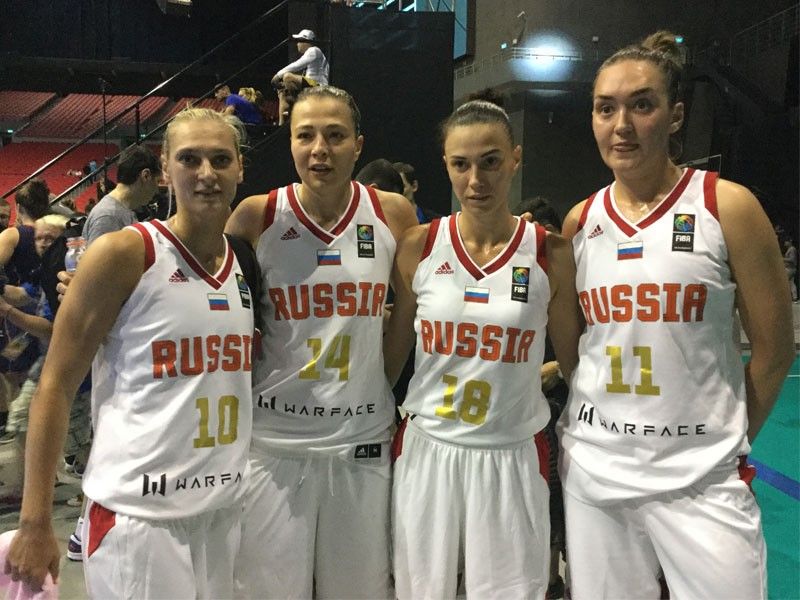 Team Russian kicked off their FIBA 3x3 title defense on a high note Friday.
Rick Olivares
Russia starts women's FIBA 3x3 title defense
MANILa, Philippines – Team Russia began its defense of the Women's FIBA 3x3 World Cup title by crushing Uganda, 22-8, at the Philippine Arena in Bocaue, Bulacan on Friday.
After an early 1-1 deadlock, Russia began to pull away when veteran Anna Leshkovtseva scored four straight points to give her side a 5-1 lead. Uganda never seriously threatened as the Russians displayed their experience and used their teamwork to the hilt.
"I think we are a much better team this year," said Anastasia Logunova, who finished with six points along with Leshkovtseva.
The Russians added Liudmila Sapova, who replaced Tatiana Petrushina in the lineup. In their first match, the change paid off as Sapova led Russia with eight points for the win. It was Sapova who also hit the game winner — a 3-pointer — for her side.
"There's pressure to defend the championship but at this point, we will take it slowly and one game at a time," added Logunova.
Jamila Nansikombi and Sarah Ageno led Uganda with three points each.
In other women's matches, the United States Women's Team returned to the competition in style by dismantling Iran 21-7.
"We're just happy to be here representing the United States," said Erin Boley, who is the only American player with 3x3 experience.
The US did not qualify for last year's FIBA 3x3 World Cup.
"It helps that we're all teammates from the University of Oregon playing five-on-five basketball," added Boley. "So chemistry is something we have. Experience though is something else and this win against Iran helps."
Boley's US and Oregon teammates include Otiona Gildon, who led the scoring versus Iran with eight points, Sabrina Ionescua and Ruth Hebard.
On Iran's part, Mozghan Khodadi, who also represented her team and country in the skills challenge, is trying to absorb the enormity of the tournament.
"This is our first time to compete in the FIBA 3x3 World Cup," bared Khodadi, who calls American basketball player Sue Bird and French star Tony Parker as her biggest influences.
"Before because the hijab wasn't allowed, we weren't able to play. So it was only recently that we were able to compete. All of this is a new experience and we welcome this."
Although Khodadi scored only one point against the Americans, she would have done Bird and Parker proud with a nifty crossover and drive against Sabrina Ionescu for a bucket.