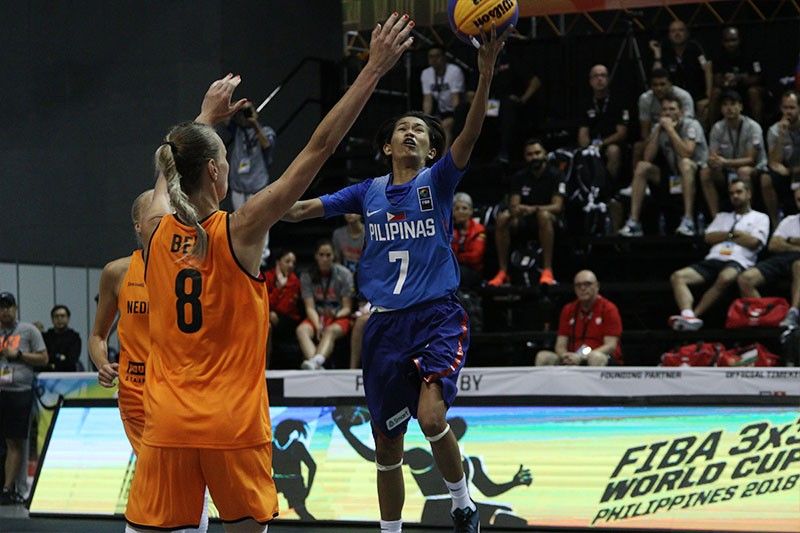 Perlas Pilipinas' Janine Pontejos during the Philippine women's 3x3 team first game in the FIBA 3x3 World Cup Thursday at the Philippine Arena in Bocaue, Bulacan.
Photos via PhilStar.com/Jonathan Asuncion
Pinay ballers fall to Dutch in FIBA 3x3 World Cup opener
BOCAUE, Bulacan — Perlas Pilipinas took the Philippine Arena's modified 3x3 courts Friday afternoon with barely any expectations. And they nearly surprised everybody.
The Philippines, seeded with as the lowest in a field of 20 teams, fell to the Netherlands in the women's Pool D hostilities of the FIBA 3x3 World Cup, 11-21, at the Philippine Arena here.
Afril Bernardino got Perlas onboard quickly, as if looking making look the mightier, taller and much more experienced Orangewomen beatable.
But the visiting Dutch squad's Karin Kuijt's sweet shooting proved to be too much to handle for the Filipinos. She went on to catch fire from rainbow territory, accounting for nearly a third of her team's total points.
Perlas' Janine Pontejos matched that same firepower halfway through the game, draining two from deep and putting their foes within striking range. They managed to cut down the lead to 10-15.
But against a team ranked fourth in the tournament, the odds were stacked against the hosts.
"We were head to head with them [on court, earlier], but they had more experience," Perlas head coach Pat Aquino said when asked about the silver lining off the loss.
"I always say that exposure is the best [teacher] going into this kind of level," he added.
Pontejos finished with a team-best six points, Bernardino had four, while Jack Danielle Aminam added one. Gemma Miranda was held scoreless.
Jacobine Klerx had six, Loyce Bettonvil had four, as Sharon Beld chimed in three to bolster Kujit's game-high eight.
The Filipinas move on to face the Germans in Day One's nightcap.