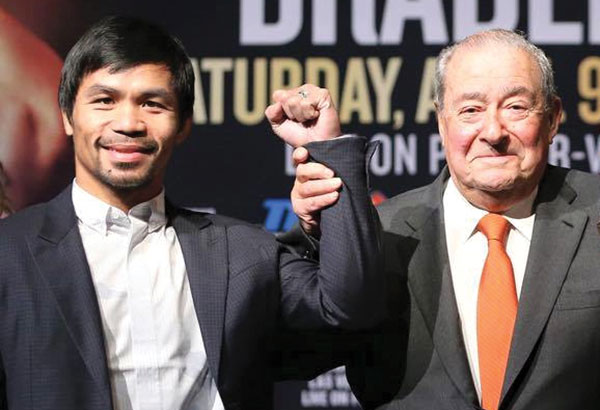 Manny Pacquiao and Bob Arum
Pacquiao left out in Arum's list of top welterweights
MANILA, Philippines – Once Bob Arum's biggest star, Manny Pacquiao seems to have disappeared from his longtime promoter's memory.
Pacquiao is moving on from Arum and Top Rank Inc. with a July 15 fight against WBA welterweight champion Lucas Matthysse, a bout co-promoted by the Filipino icon's MP Promotions and Oscar Dela Hoya's Golden Boy Promotions.
With Arum no longer in the picture as far as promoting Pacquiao's future fights is concerned, the veteran promoter has apparently downplayed the fighter's stature as a major player in the welterweight division.
In a conference call on the upcoming title bout between Pacquiao conqueror Jeff Horn and rising star Terence Crawford this Sunday, Arum was asked about the fight's impact in a stacked 147-pound division.
"The welterweight division has been, going back to the 80s, with Sugar Ray Leonard and Tommy Hearns, a top division. Now there are a lot of great welterweights out there," said Arum, who is promoting Crawford and Sunday's fight.
"Two of them are fighting on Saturday (Sunday Manila time), and there's Errol Spence, who is a terrific fighter, (Keith) Thurman, (Shawn) Porter and (Danny) Garcia, and there is a guy that you should be looking at also who will be on the card," the promoter added.
Arum went on to name-drop some more up-and-coming but still relatively unknown welterweight fighters. Curiously, he made no mention of Pacquiao, who, despite already being on the decline, remains a key figure in the weight class.
It wasn't until he was reminded of Pacquiao that Arum brought up his name in the conversation.
"There is Manny Pacquiao, well, he is more of a politician, but he is a fighter, I guess," Arum, laughing, continued.
The current welterweight world titlists are WBA "super champion" Keith Thurman, WBA "regular" champ Matthysse, IBF boss Errol Spence and Horn, who won the WBO version of the crown from Pacquiao with an upset victory last year.
If Crawford defeats Horn — the American is a heavy favorite — then Arum has found his next big superstar.
Pacquiao, for his part, is just seeking to remain relevant with a win over Matthysse in Kuala Lumpur, Malaysia next month.
"There are a lot of good, good welterweight fighters," said Arum.
Pacquiao, as it turns out, is on the far bottom of his list.