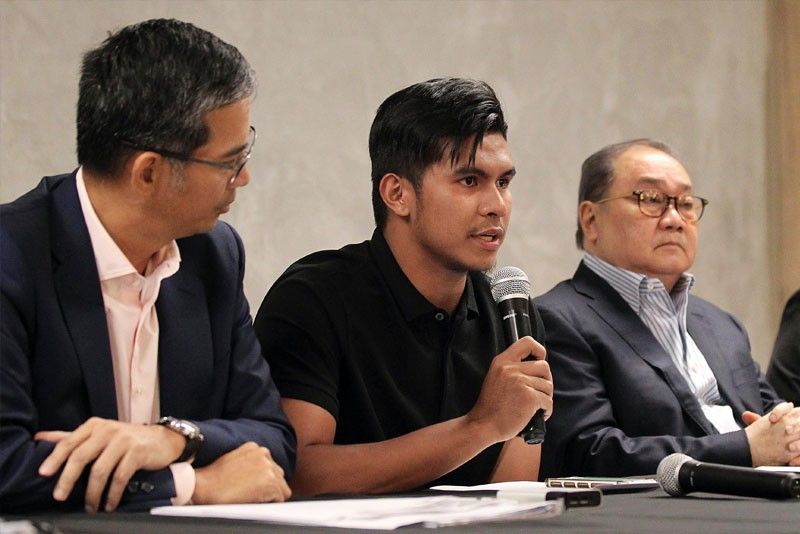 Gilas Pilipinas and NLEX player Kiefer Ravena (middle) talks to media on the drug test conducted by International Basketball Association (FIBA), which announced he failed a drug test. With him during the press conference are Samahang Basketbol ng Pilipinas chairman emeritus Manny V. Pangilinan (right) and SBP president Al Panlilio.
Jun Mendoza
Kiefer Ravena fails FIBA drug test
18-month suspension; no stint for Gilas, PBA
MANILA, Philippines — For testing positive for three banned substances, PBA rookie sensation and Gilas Pilipinas mainstay Kiefer Ravena has been suspended 18 months by the FIBA, beginning from Feb. 25, 2018, the date the test was conducted, until Aug. 24, 2019.
Ravena said it was "an honest mistake" on his part to take a pre-workout drink, identified as Dust, not knowing it contained substances that are banned by FIBA (dimethylbutylamine, methylexaneamine, which are both stimulants, and higenamine, a beta A2 antagonist).
Under the suspension, Ravena cannot represent the Philippines in any FIBA-sanctioned events like the SEA Games, Asian Games, Olympics or the FIBA Asia Championship and FIBA World Cup.
He is also banned from playing in the PBA, and taking part in any activity. This forced the Samahang Basketbol ng Pilipinas (SBP) to ask the PBA to pull Ravena out of the All-Star game last Sunday in Iloilo.
"The rules are very clear – all leagues and activities, even the All-Stars. That's why we had to pull out Kiefer from the All-Stars. But we are seeking arbitration from FIBA, and we already sent a letter to Geneva," said SBP president Al Panlilio.
The SBP is hoping for a favorable response from FIBA, and allow the 24-year-old Ravena to play for the NLEX Road Warriors in the PBA, and continue earning a livelihood, while under suspension for international events.
"We're hoping that FIBA can lessen the suspension and also allow me to continue playing in the PBA," said Ravena, who has vowed to embark on an information campaign about banned substances.
"I take full responsibility taking the drink without analyzing its ingredients," said Ravena in a press conference attended by SBP officials led by Manny V. Pangilinan, Al Panlilio and Ricky Vargas, also president of the Philippine Olympic Committee, and Gilas head coach Chot Reyes last night in Mandaluyong.
Ravena underwent the random test after Gilas defeated Japan in the FIBA Asia Qualifiers at the Mall of Asia Arena last Feb. 25. The positive results came out last March 16. The SBP requested that a second sample be tested, and again, it yielded positive results.
An SBP lawyer made it clear that the FIBA sanction on Ravena does not include forfeiture of any game Gilas had won.
"It does not affect any result of any game that Kiefer participated in," said lawyer Aga Francisco.
"I was not tested twice. It was a second sample that was tested," added the former Ateneo Blue Eagle.
"I'm a responsible man and I will face the consequences," said Ravena, adding that the pre-workout drink is available over the counter, and to the general public. He did not say if any other Gilas teammate also took the pre-workout drink.
"This is the first time I drank this pre-workout drink," he said.
Pangilinan has accepted the FIBA decision but like everyone else in the room, he hoped that Ravena be allowed to continue to play in the PBA.
"The FIBA has its own internal regulations and as member of WADA (World Anti-Doping Agency) is bound by the rules and regulations, and how to implement sanctions," he said.
The SBP has accepted the FIBA decision but has written the world governing body in basketball asking if Ravena can continue playing in the PBA.
SBP executive director Sonny Barrios also clarified that the banned substances that were found in Ravena's system are not illegal substances such as marijuana, shabu, cocaine or heroine.
"There's a big difference between a banned substance and an illegal substance. You don't go to jail for taking a banned substance (under FIBA list)," said Barrios.
NLEX president Rod Franco said the Road Warriors are "standing by" Ravena, current leader in the race for the PBA Rookie of the Year award.
"It was an honest mistake but we have to accept the decision of FIBA," he said.
"We should do the right thing and the right thing is to follow FIBA. It was a very comprehensive decision. We did not want the suspension. But this is a wakeup call not just for the SBP but for all athletes to know what you put in your bodies," said Panlilio.
The SBP president said if Ravena does not get the favorable response from FIBA, then the very popular player will spend a lot of time campaigning nationwide against banned substances.
"Kiefer will still embark on this campaign and then maybe FIBA can see the effort," said Panlilio.
"If you look at the FIBA's list of banned substances, it's a thick document. But ignorance is not an excuse," he added.