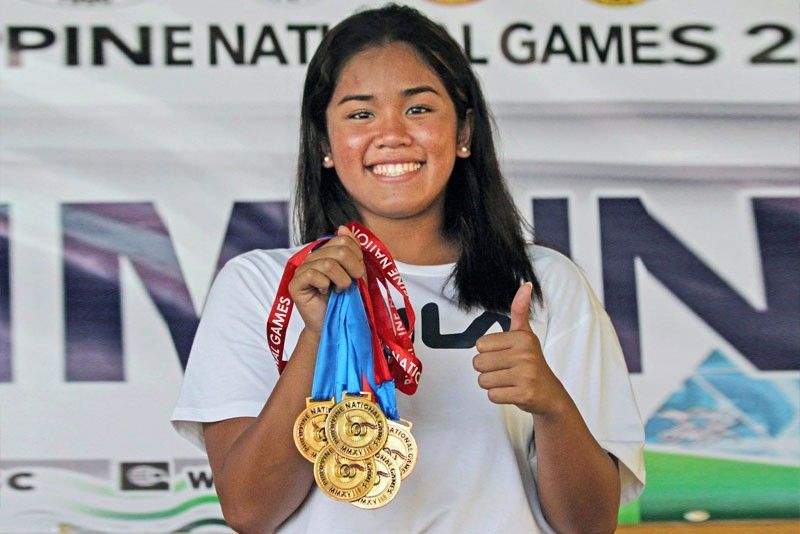 Nicole Meah Pamintuan of Sta. Rosa, Laguna flashes the thumbs-up sign and shows her 5-gold haul.
Jun Mendoza
Swim golden girl nails 5th win; John Chicano tops triathlon
Joey Villar
(The Philippine Star) - May 24, 2018 - 12:00am
CEBU CITY, Philippines — John Chicano emerged from the shadows of Southeast Asian Games gold medalist Nikko Huelgas and snared the men's triathlon gold while Nicole Meah Pamintuan and Camilo Russel Owen La Torre of General Santos nailed their fifth gold at the end of the swim competition in the Philippine National Games here yesterday.
Negros Occidental's Ann Katherine Quitoy also grabbed the spotlight by claiming the girls' javelin throw gold with a 41.78m heave. But she later cried after she was deprived of her sixth and last throw that denied her the chance to break her personal best of 45.72m she set in last month's Palarong Pambansa in Vigan, Ilocos Sur.
"I didn't come here to win the gold, I went here to break my personal best," said the 17-year-old Quitoy, who hails from Valencia, Iloilo and an incoming Grade 12 student at Romanito P. Maravilla National High School in Bacolod City.
"Now I lost my chance," she added.
Chicano, meanwhile, cashed in on his chance to upending Huelgas as the Zambales ace clocked one hour, 1.03 minutes to beat the back-to-back SEAG champion in the 750m swim-20km bike-5km race in Danao City. Huelgas settled for silver in 1:01.35.
Chicano actually finished ahead of Huelgas at 29th in the ASTC Triathlon Asian Cup in Subic Bay last month where the latter wound up 33rd.
The duo, however, are shoo-ins in the national team set for the Asian Games in Palembang and Jakarta, Indonesia this August.
"I'm just happy to win," said the 26-year-old Chicano.
Fil-Am Kim Kilgrove, on the other hand, dominated women's triathlon in the absence of SEAG medalists Kim Mangrobang and Claire Adorna. She timed 1:09:56 and beat Muntinlupa's Una Sabayan (1:21:56) and Cebu City's Rue Reinhadt Panibon (1:23:36).
Mangrobang is currently competing in the World Cup in Portugal while Adorna was out due to injury.
In the pool, the 18-year-old Pamintuan topped the women's 200m freestyle in 2:15.69 to add to her earlier wins in the 100m backstroke, 200m individual medley, 100m free and 50m back while La Torre, 17, ruled the 200m fly in 2:29.15 following his other golden feats in the 200m free, 400m IM, 100m and 1500m free.
Pamintuan, member of the Phl relay team that snared the SEAG bronze in Kuala Lumpur SEAG, hopes her feat will net her a berth in the Asian-bound squad.
"I hope I could get that chance to make the Asian Games team," said Pamintuan, who has now transferred from La Salle-Zobel to La Salle-Taft.
In the 1500m, Mervin Guarte took the gold in 3:59.42. He, however, rued his effort since it was way below the national record of 3:47.65 he set in the 2011 Palembang SEAG.
In cycling, SEAG gold medalist Marella Salamat stamped her class in women's individual time trial, clocking 45:43.07 and beating Jermyn Prado and Marianne Dacumos, who timed 47:36.79 and 49:00.07 for silver and bronze medals, respectively.
John Rene Mier, on the other hand, topped the men's ITT with a 39:45.90 clocking to foil Navymen Jude Roque, runner-up in the 2017 LBC Ronda Pilipinas, and Ronald Lomotos, who clocked 40:00.71 and 40:10.02 for silver and bronze, respectively.
In archery, also in Danao, Baguio City dominated the recurve events behind the triple-gold effort of Loren Chloe Balaoing in junior women's 72 rounds and Olympic round and mixed team with James Seg-Ed.
Other winners from Baguio were Angela Villamor and Cleanard Hidalgo in cadet mixed and Hidalgo, Roberto and Angelo Calalo and Cedick Mendoza in the men's team.