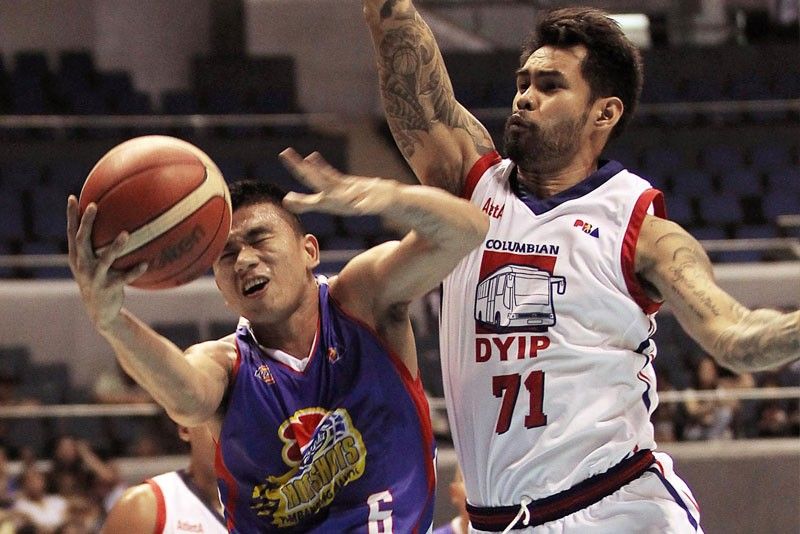 Jio Jalalon of Magnolia sneaks past Ronald Tubid of Columbian Dyip for an easy layup during their match in the PBA Commissioner's Cup at the Smart Araneta Coliseum last night.
Jun Mendoza
Post another big romp
MANILA, Philippines — Magnolia got off to a furious start, posting a huge 19-point lead right in the opening quarter then cruising to a 126-101 victory over Columbian Dyip to close in on the early leaders in the PBA Commissioner's Cup at the Smart Araneta Coliseum last night.
Walloping the Columbian Autocar Corp. franchise by an average of 36.2 points in their last four matchups, the Hotshots threatened to win by an even bigger margin as they led by as many as 38, 111-73, at the start of the fourth quarter.
But they settled for a 25-point triumph as coach Chito Victolero opted to rest import Vernon Macklin and ace guard Paul Lee in the final 12 minutes of the lopsided contest.
For the record, the Hotshots prevailed over Columbian by 47 points in each of their last two games.
It's their penultimate game in the tourney with Macklin as their reinforcement. The veteran PBA import plays his last game with the Hotshots against the Meralco Bolts tomorrow before leaving the country to honor a commitment in the Chinese league.
With a 2-1 card, the Hotshots are right behind the Rain or Shine Elasto Painters (4-1), the Alaska Milk Aces (3-1), the TNT KaTropa Texters (3-1) and the Meralco Bolts (3-1) going to their Friday assignment.
Columbian Dyip remained on a win-loss-win-loss rollercoaster ride, and dropped to sixth place at 3-3.
"Columbian had been playing well going to this game. We battled their offense with our defense, and we got a good result matching up their three guards with our own three guards," said the Hotshots coach.
Later in the night, GlobalPort rebounded strong from a loss to Magnolia the last time out as it blasted NLEX, 116-94, to go above the .500 mark again with three wins against two losses.
The scores:
First Game
Magnolia 126 – Macklin 19, Sangalang 18, Lee 17, Barroca 17, Ramos 12, Jalalon 11, Dela Rosa 8, Abundo 7, Pascual 6, Herndon 5, Mendoza 2, Brondial 2, Simon 2, Reavis 0, Gamalinda 0.
Columbian 101 – Fields 22, King 19, McCarthy 12, Tubid 9, Khobuntin 9, Corpuz 8, Celada 7, Cabrera 6, Lastimosa 5, Cahilig 4, Ababou 0, Yee 0, Escoto 0, Gabriel 0
Quarterscores: 37-18; 72-43; 97-71; 126-101
Second Game
Globalport 116 – Anthony 21, White 20, Pringle 19, Elorde 16, Tautuaa 13, Sargent 10, Araña 6, Grey 6, Javelona 3, Guinto 2, Teng 0.
NLEX 94 – Ravena 29, Moultrie 19, Fonacier 11, Ighalo 8, Mallari 6, Quiñahan 6, Buenafe 5, Miranda 5, Monfort 3, Soyud 3, Tiongson 2, Gotladera 2, Baguio 0.
Quarterscores: 26-20; 55-43; 86-72; 116-94