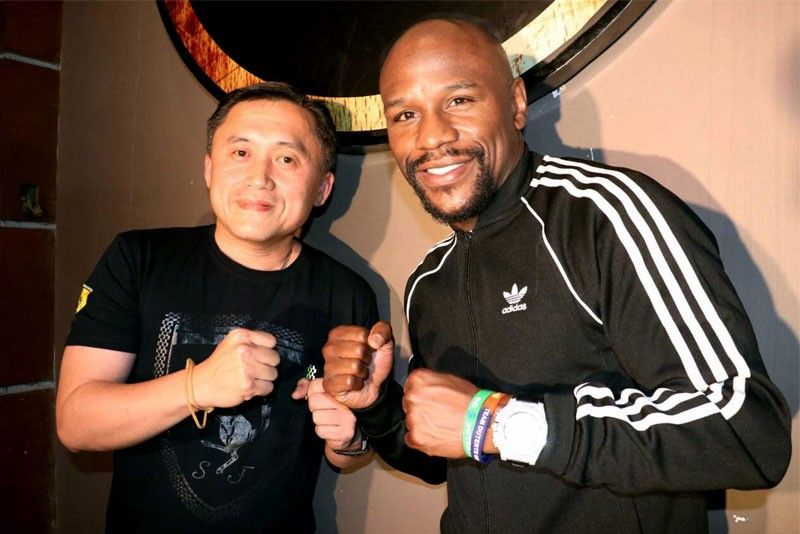 Floyd Mayweather Jr. with Presidential special assistant Secretary Bong Go in Samal, Davao del Norte.
Mayweather vows to return Pinoy love
MANILA, Philippines — Undefeated boxing champion Floyd Mayweather, Jr. said he was bowled over by the Filipino hospitality during his recent five-day visit to the country, vowing to Presidential special assistant Secretary Bong Go he'll return to embrace the Filipino people and reciprocate their love.
Mayweather and his entourage were accompanied by former Ilocos Sur Gov. Chavit Singson to Davao City on a private jet that took off from Manila at 1 a.m. last Friday. The group arrived at 3 a.m. and proceeded to Bugoy Restaurant in Lanang where Go welcomed the 41-year-old fighter to the city. Mayweather apologized to Go for arriving late and said it's been difficult to overcome jet lag because of the time difference.
"I'm happy to be here," Mayweather told Go. "Of course, the hospitality, so many great people taking care of me and my staff. We're happy, we look forward to come back to the Philippines just to embrace the people and show the same love that they gave us. We look forward to showing the love back in return. We're very, very thankful to everyone. The media has been great, the fans and the people. With me traveling over from the US, meeting the Filipino people for the first time, they're some of the best people in the world I've ever met."
Mayweather asked Go if he could meet with President Duterte but an appointment couldn't be arranged because of the Chief Executive's busy schedule. Go himself met with Mayweather only for 20 minutes before heading to Marawi City to join the President with surrenderees from the ISIS-Maute Group. But even as he attended to his Malacañang duties, Go made sure Mayweather was given the red carpet treatment by designating close associates to take care of the champion's stay.
Mayweather never touched on his boxing career in his meeting with Go. He spoke about his visit to El Nido, the impressive Manila malls and his love for beaches. He said he came to the Philippines to see for himself how beautiful the country is, to go around and to meet the Filipino people. Go played the role of a gracious host and ambassador.
From Lanang, Mayweather and his party went to the Pearl Farm Beach Resort in the Island Garden City of Samal in Davao del Norte, off the coast of Davao City. Mayweather slept in until 11 a.m. then had lunch of grilled chicken, squid and beef. Mayweather showed a liking for Filipino food, including kare-kare and chicken inasal. At about 4 p.m., Mayweather and about 30 companions went around Talikud Island which is behind Samal. Mayweather enjoyed the Talikud waters on a jet-ski. He had dinner at the Pearl Farm before taking off from Davao City at 11 p.m. for Manila. Mayweather left Manila for Japan early Saturday morning.