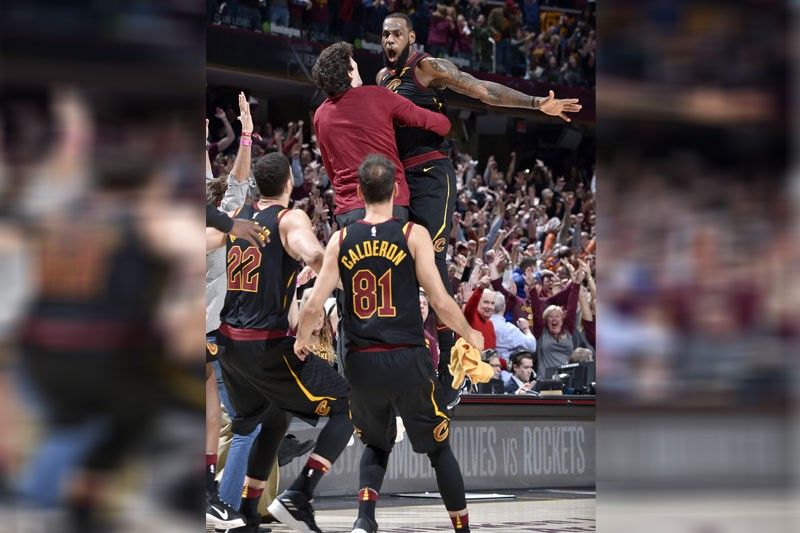 LeBron James rushes to teammate Cedi Osman after hitting the game-winning trey that seals the Cleveland Cavaliers win over the Indiana Pacers in Game Five of their NBA Playoff.
AFP
(Associated Press) - April 27, 2018 - 12:00am
JAMES' trey at buzzer lifts cavs vs pacers
CLEVELAND – The game, the series, the season and perhaps Cleveland's future were in jeopardy.
LeBron James saved everything.
James dropped a three-pointer at the buzzer, a crowning moment for another one of his brilliant performances, to give Cleveland a 98-95 victory over the Indiana Pacers on Wednesday night in Game 5, putting the Cavaliers within one victory of advancing in the Eastern Conference playoffs.
Moments after blocking Victor Oladipo's possible go-ahead layup – a play the Pacers felt was goaltending – James caught the inbounds pass, took two dribbles and hit his winner over Thaddeus Young.
As Cleveland's sellout crowd exploded, James hugged rookie teammate Cedi Osman before jumping on the scorer's table to celebrate another of those moments that will define a career he dreamed of while growing up in Akron.
James finished with 44 points, 10 rebounds, eight assists and went 15 of 15 from the line.
"He does it at both ends every single night," Cavs forward Kevin Love said. "That's why he's the best player in the world."
Kyle Korver added 19 points and Cleveland's much-maligned defense tightened just in time as the Cavaliers seized their first lead in the first-round series after being down 1-0 and 2-1.
Cleveland can close out Indiana with a win Friday night in Indianapolis.
In Houston, the Rockets pulled away in the third quarter to blast the Minnesota Timberwolves, 122-104, and advance to the second round with a 4-1 series victory; Toronto trounced Washington, 108-98, to seize a 3-2 lead in their side of the playoffs, while Oklahoma avoided elimination by rallying from 25 points down to hack out a 107-99 victory over Utah, which still leads the series, 3-2.