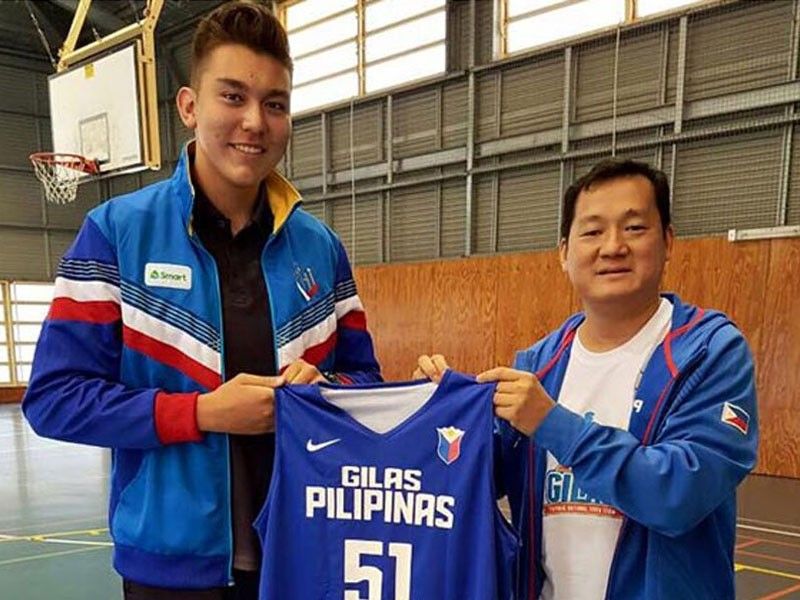 Batang Gilas team manager Andrew Teh, right, is pictured here with Fil-Aussie prospect Ethan Kirkness.
Batang Gilas manager gains key FIBA position
MANILA, Philippines – Batang Gilas team manager Andrew Teh is another Filipino that is now part of the FIBA organization with his entry into the roster of Technical Delegates running the home-and-away games in the FIBA qualifiers for the 2019 World Cup.
A new FIBA position created on the introduction of the home-and-away series, a FIBA technical delegate is on top of everything in a game in the qualifiers.
One of only three Southeast Asians in the 26-man Asian group, Teh has handled the China-Hong Kong game in Nanjing then the China-New Zealand match in Dongguan.
Of course, Samahang Basketbol ng Pilipinas chairman emeritus Manny V. Pangilinan is a Filipino with the most prominent place in the FIBA organization, being one of only four Asians in the FIBA Central Board.
Jimmy Alapag is a member of the Players Commission, Atty. Edgar "Aga" Francisco is deputy chairman of the Legal Commission while Dr. Raul Canlas is a member of the Medical Commission.
Bong Pascual is another Filipino in the FIBA organization as among the elite international referees. Being in the top group, Pascual has made the rosters of officiating officials in both the World Cup and the Olympics.
Then came the entry of Teh as a technical delegate.
He was invited to join rigid workshops and examinations after his topnotch handling of the logistics of the recent FIBA events hosted by the country.
At the same time, he's sticking with the Philippine youth team as team manager.
"That I can't compromise," he said.
Teh and the youth team are set to vie in the 2018 FIBA U-17 World Championship in Argentina.