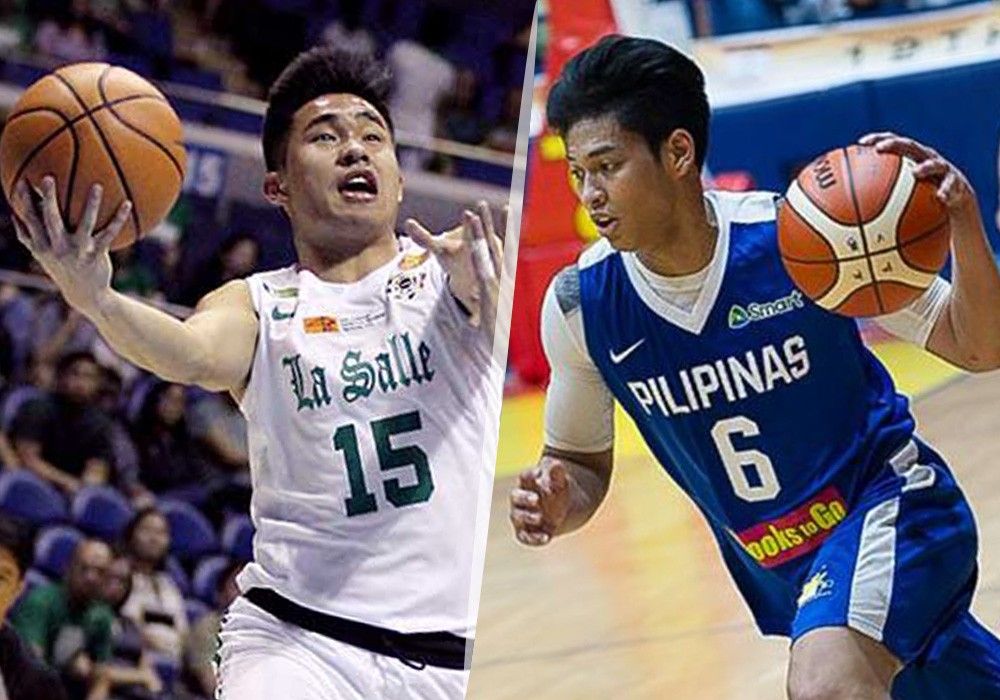 De La Salle University's Kib Montalbo (left) and former Green Archer Ricci Rivero.
Composite Image/Philstar.com, Bounty Sports photos
Gilas cadets test mettle vs Archers in Filoil cagefest
MANILA, Philippines – The Gilas cadets, led by Kobe Paras and Ricci Rivero, face another stern test when they take on the De La Salle Green Archers in the Friday nightcap of the Filoil Flying V Preseason Cup at the Filoil Flying V Centre in San Juan.
The cadets, composed of recent college stars and sprinkled with some current players, fell to a veteran Ateneo de Manila on opening day as the Blue Eagles romped to a 75-69 win.
This time, they'll have their hands full against a rebuilding La Salle team with a sprinkling of veterans and young talent, including its "Triple Towers" that feature a much-improved Justine Baltazar and rookies Taane Samuel and Brandon Bates.
The trio combined for 37 points, 16 rebounds, 5 assist and 3 blocks during La Salle's opening day win over highly fancied UP, 82-79. Although Fighting Maroons' center Bright Akhuetie scored 12 points on 56 percent field goal shooting, he was harried into seven turnovers and was blocked twice by DLSU's centers.
"You cannot really take away too much because we had an incomplete team while some played two matches that day," noted Gilas Cadets head coach Jong Uichico, who will once more be unavailable for the game as he will be out for the Samahang Basketbol ng Pilipinas Coaches Clinic which is out of town.
"Again, give credit to the college teams because they will not give anything to the cadets. This is the type of atmosphere and the quality of the games we want as part of our international preparations," added Uichico, who will hand over the coaching duties to his assistant Josh Reyes.
Game time is 6:30 p.m.
A key sub-plot in the game is Rivero seeing action against his former team. Rivero, who played for DLSU for two seasons and helped them to the UAAP Season 79 men's title, left the Taft Avenue-based school after allegations over drug use and other matters. The high-leaping Rivero recently came out with a statement announcing the result of a drug test that gave him a clean bill of substance use. He has yet to choose what school he will be transferring to, but speculation is he is either headed for National University where his father Paolo has been spotted working with Bullpups head coach Goldwyn Monteverde, or UST where is former coach Aldin Ayo now holds court.
Ricci's older brother, Prince, has also left the Green Archers but is included in the Gilas Cadets' roster.
In other games, the Ateneo Blue Eagles will face off with the San Beda University at 4:30 p.m. The Red Lions defeated National University, 71-61, during the second day of the tournament last Sunday, behind a strong 10-0 finishing kick in the last two minutes of play.
Ateneo lists newcomers in former Red Lion, William Navarro, as well as rookies Pat Maagdenberg, Angelo Kouame, SJ Belangel and Jason Credo, while Fil-Canadian James Canlas made his Red Lions debut against the Bulldogs.
In other matches, Lyceum of the Philippines University, Jose Rizal University, and San Sebastian College-Recoletos, who are all coming off successful stints in the PBA D-League, will make their summer debut. LPU and JRU clash in the Friday opener at 12:30 p.m. while SSCR goes up against a rebuilding Arellano University Chiefs side at 2:30 p.m.
The rebuilding Chiefs lost their initial assignment, 74-65, to FEU during last Sunday's matches. With only Michael Cañete, Brylle Meca and Richard Abanes left from the squad that went to two of the last four NCAA men's basketball Finals, the young Chiefs found an additional source of strength from Fil-American Mauie Sera-Josef who led Arellano with 15 points.
"We have a young team and we hope to gain a lot of experience in this tournament before we go into the NCAA," said Arellano head coach Jerry Codinera.
The Ateneo-San Beda and Gilas-La Salle matches will be televised over ESPN5. Tickets to the tournament are available at the gate of the Filoil Flying V Centre in San Juan.