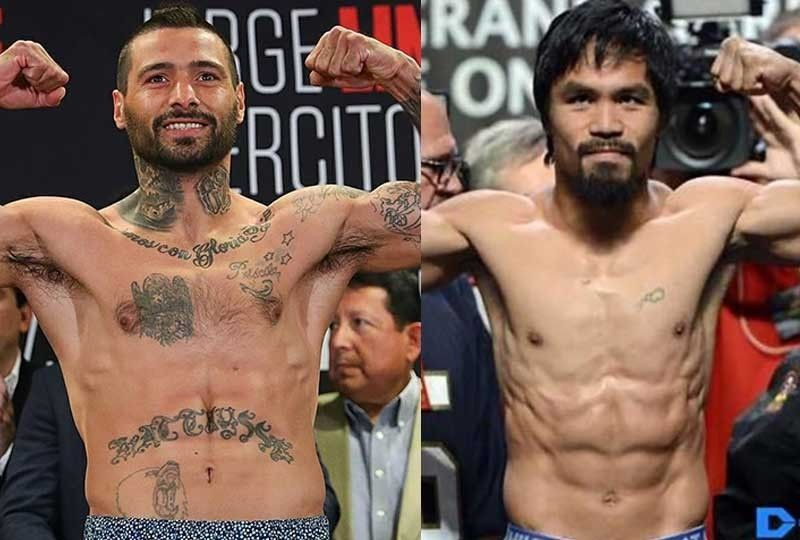 Lucas Matthysse and Manny Pacquiao
Matthysse dreams of KO win over Pacquiao
MANILA, Philippines – Lucas Maytthysse is beginning to imagine things exactly three months before he defends his WBA welterweight crown against Manny Pacquiao in Kuala Lumpur.
Images of the fight must be flashing before the eyes of the 35-year-old hitman from Argentina.
"I imagine parts of the fight," said Matthysse from Chubut, a southern province of Argentina, in an article posted by www.boxingscene.com Sunday.
There's more to that: Matthysse is thinking of knocking out Pacquiao, and sending the 39-year-old Filipino into retirement.
"I'm not thinking about the scorecards — I'm thinking about knocking [Pacquiao] out," said Matthysse.
The 147-pound champion with 34 knockouts in 39 wins and four defeats should look back to 2012, when Pacquiao was knocked out cold by Juan Manuel Marquez.
"I like that he is a fighter like me, we must be attentive and prepared, I know that my hands in this division feel stronger," added Matthysse ahead of the July 15 fight (Manila time).
The WBA champion will arrive in Manila in two days, along with his promoter, boxing's Golden Boy, Oscar dela Hoya.
They will start drumming up the fight, kicking off with a formal press conference in the Philippine capital on Wednesday, then another one in Kuala Lumpur on Friday.
Matthysse and Dela Hoya and Golden Boy pointman Eric Gomez head back to the United States on Sunday.
"Hopefully I can retire Manny Pacquiao. We are prepared for that, prepared to win," Matthyssee.
The Manila press conference will take place at the City of Dreams.
Related video: