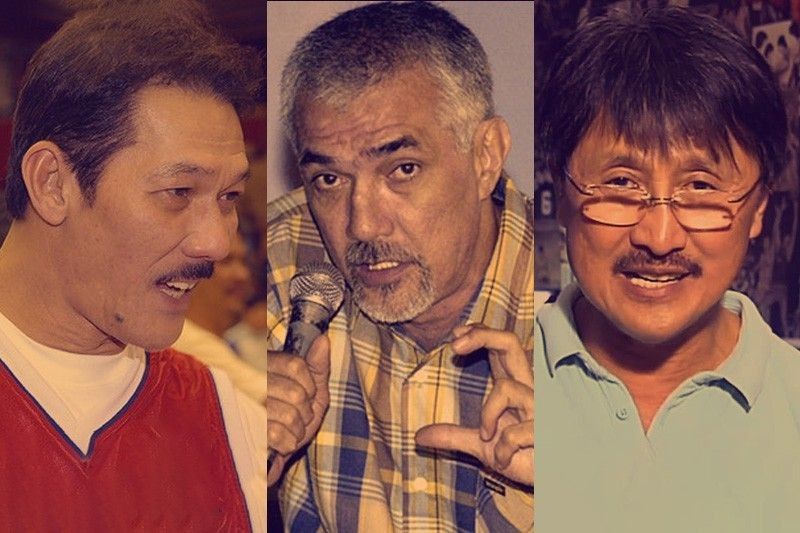 PBA pioneer stars Philip Cezar, Ramon Fernandez and Atoy Co
Ginebra-Purefoods, SMB-Alaska reunion games eyed
MANILA, Philippines – A classic double-header pitting the old stars of Barangay Ginebra versus Purefoods and San Miguel Beer against Alaska Milk is virtually a done deal.
This is a fund-raising project in mind of a group of retired PBA players led by Atoy Co, and it has the backing of PBA commissioner Willie Marcial.
"They said they're coming over for a meeting as they're proposing some projects. They will have my 100-percent support. In fact, I've long been suggesting that they make projects to raise funds for the benefit of former players who hit hard times," said Marcial.
Co and other PBA pioneer stars Ramon Fernandez and Philip Cezar lead a stellar cast of retired players that will sit down in a meeting with Marcial on Tuesday.
The legends set the meeting with the PBA top honcho after their own brainstorming session last Tuesday also attended by Alvin Patrimonio, Allan Caidic, Kenneth Duremdes, Jojo Lastimosa, Pido Jarencio, Ed Cordero and Art dela Cruz.
The elite list has a combined collection of 12 MVP trophies, 11 from five players — Fernandez, Patrimonio, Co, Cezar and Caidic — who are also PBA Hall of Fame inductees.
Co, the 1979 MVP winner, initiated the brainstorming meeting where numerous inputs were put on the table.
High on the list of possible projects is a double-header among the best rivalries in the 90s.
This bill would feature big stars including Fernandez, Caidic, Lastimosa, Patrimonio, Duremdes, Ato Agustin, Hector Calma, Johnny Abarrientos, Bong Hawkins, Jeffrey Cariaso, Jerry Codinera, Chito Loyzaga, Vince Hizon, Marlou Aquino, Noli Locsin, Bal David and many others.
Two classic legends games have been held in the past, including the Crispa-Toyota reunion game in 2003 then a showdown among the 25 PBA greatest players.
Obviously, the group wants to raise funds to help peers who are in need now.
The group is also looking forward to hold a fund-raising celebrity golf event. Co, Fernandez and Lastimosa are among legends who play golf.