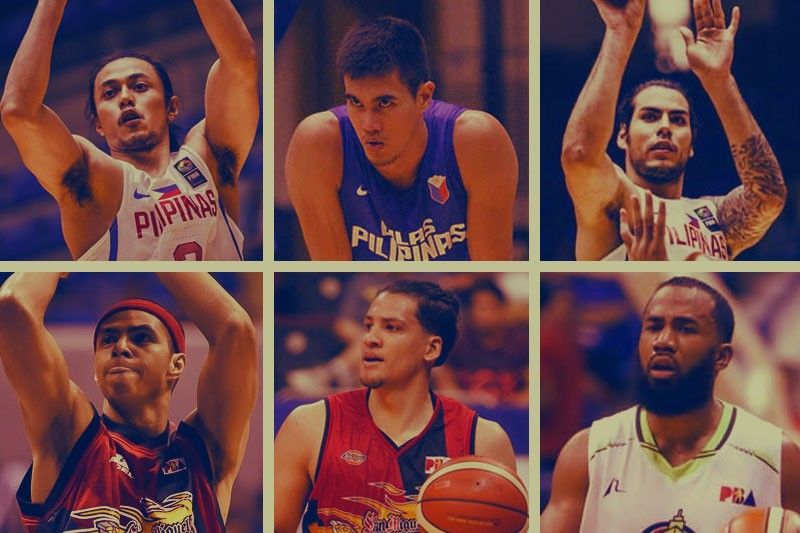 The Philippine FIBA 3x3 squad could include anyone among Terrence Romeo, Troy Rosario, Arwind Santos, Marcio Lassiter, Christian Standhardinger and Stanley Pringle. Who are your choices?
Collage by Jonathan Asuncion/Philstar.com
Romeo, Standhardinger, Lassiter among possible bets for FIBA 3x3
(Associated Press) - April 10, 2018 - 3:33pm
MANILA, Philippines – Terrence Romeo, Troy Rosario, Arwind Santos, Marcio Lassiter, Christian Standhardinger and Stanley Pringle could be among the top candidates to make the Philippine team in the FIBA 3x3 World Cup 2018, which the country is hosting at the Philippine Arena in Bocaue, Bulacan on June 8-12.
Pending SBP's announcement of the lineup, the PBA is keeping on hold the complete schedule of the PBA Commissioner's Cup that fires off on April 22.
"We're waiting for the lineup because we would make adjustment in our schedule based on the composition of the roster. We'll spare the PBA teams trouble of missing key players because of conflict of schedule with the World Cup," Marcial told The STAR.
Marcial said SBP president Al Panlilio is eyeing players from TNT KaTropa and San Miguel Beer.
"My suggestion is for them to look at Christian Standhardinger, Stanley Pringle and Marcio Lassiter," Marcial said.
Romeo, now a TNT KaTropa player, is a top choice with his topnotch performance in the Manila Masters in 2014 and in the World Tour Final in Tokyo, Japan in 2015.
The FIBA 3x3 World Cup 2018, the fifth edition of the competition, will feature 40 teams from 37 countries with the final game set during the Philippine Independence Day.
Together with the host teams, Serbia's men's and Russia's women's teams automatically qualified as winners of the last edition in Nantes, France.
The others qualified through the FIBA 3x3 federation ranking.
Canada, Ecuador, Iran, Malaysia, Mongolia and Nigeria will make their debut in the event where only three countries — the Philippines, the Netherlands and Russia -- will have a team in both the men's and women's categories.
Brazil, Canada, Croatia, Ecuador, Estonia, Japan, Jordan, Kyrgyzstan, Latvia, Mongolia, Netherlands, New Zealand, Nigeria, the Philippines, Poland, Romania, Russia, Serbia, Slovenia and Ukraine compete in the men's side while Andorra, Argentina, China, Czech Republic, France, Germany, Hungary, Iran, Italy, Kazakhstan, Malaysia, Netherlands, the Philippines, Russia, Spain, Switzerland, Turkmenistan, Uganda, United States and Venezuela slug it out in the distaff side.
Last year, Kiefer Ravena, Jeron Teng, Kobe Paras and JR Quinahan formed the Philippine team that placed 11th out of 20 teams.
In pool competition, the Filipinos topped Romania (21-15) and El Salvador (21-14) but lost to France (11-22) and Slovenia (14-21).