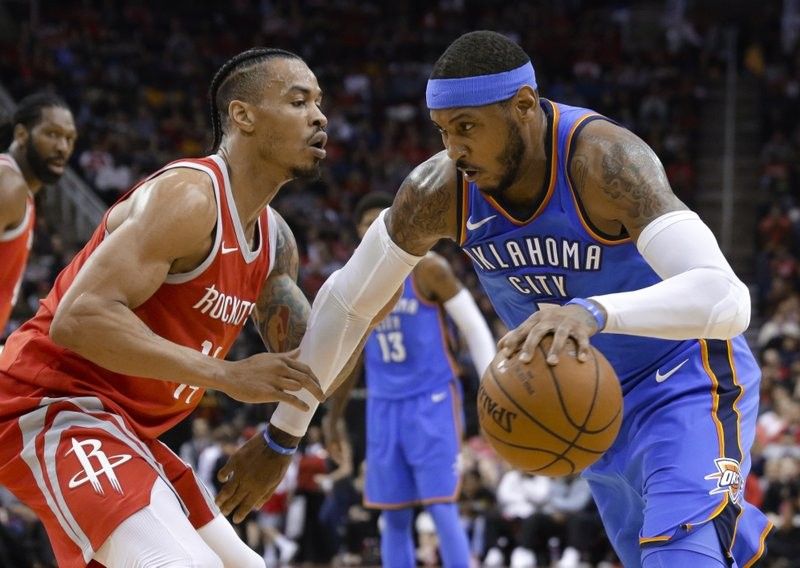 Oklahoma City Thunder forward Carmelo Anthony (7) looks to drive around Houston Rockets guard Gerald Green (14) during the first half of an NBA basketball game Saturday, April 7, 2018, in Houston (Sunday in Manila).
AP Photo/Michael Wyke
Thunder's 'big three' powers Oklahoma past Houston
The Oklahoma City Thunder adopted a simple mantra for Saturday's game (Sunday in Manila) against the Houston Rockets with their playoff fate still up in the air.
"We just better not lose," Paul George said.
For one night at least, it worked.
George and Russell Westbrook each scored 24 points, and Oklahoma City snapped Houston's 20-game home winning streak with a 108-102 victory.
The Thunder were down one with about seven minutes left before scoring the next 11 points.
Oklahoma City (46-34) is tied with San Antonio and New Orleans for fifth in the loaded Western Conference, a half-game behind idle Utah. The Thunder can clinch a playoff spot with a victory at Miami on Monday.
"This game was important but the Monday game is just as important as this game because if we don't take care of business Monday then this game doesn't really mean anything," said Carmelo Anthony, who had 22 points.
The Thunder took two of three in the season series against the NBA-best Rockets.
James Harden had 26 points for Houston, and Chris Paul added 17.
"I thought we tasted the playoff atmosphere because these guys are fighting for their lives and we're not," Houston coach Mike D'Antoni said. "It's human nature, there's no reward in winning."
Paul hit a step-back jumper and Gerald Green scored to give the Rockets a 92-91 lead with 7:09 left. But Westbrook scored five quick points to start an 11-0 run by Oklahoma City that made it 102-92 with about four minutes remaining.
Houston went scoreless for more than four minutes, missing seven shots and committing three turnovers as Oklahoma City pulled away. The Thunder also blocked three shots in that span.
"Just doing what you've got to do to win, honestly," Westbrook said.
The Rockets scored five straight points with less than a minute left to get within five, but George made two free throws to help secure the win.
Anthony made three of the Thunder's 10 3-pointers. He said it was important for them to be in attack mode right from the start.
"It was one of those days, understanding the situation that we're in and just trying to be aggressive out there on both ends and go after it from the beginning," he said.
The Thunder led by as many as 11 in the first half, but Houston used a 5-1 spurt take a 62-61 lead at halftime.