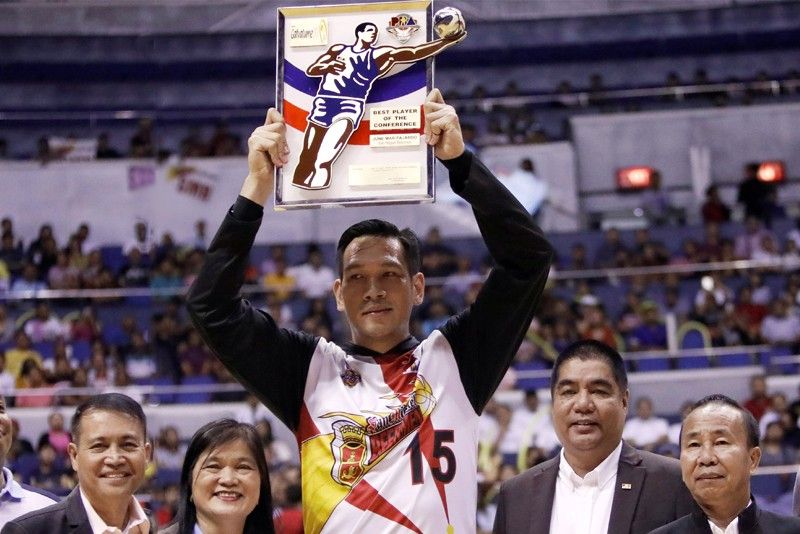 June Mar Fajardo hoists his sixth Best Player of the Conference award before the start of Game 4 of the PBA Philippine Cup Finals Wednesday. With him are, from left, Al Nieva, Vicky De Leon, heads of sales for building products of conference sponsor Philsteel, PBA commissioner Willie Marcial and Games and Amusements Board commissioner Mario Masanguid.
June Mar Fajardo shares Best Player of the Conference crown to teammates
MANILA, Philippines — June Mar Fajardo would rather be everybody's champ than an MVP and he maintains he wouldn't get all the individual accolades without his teammates' support.
So the San Miguel Beer behemoth and his teammates savored his winning of his sixth Best Player of the Conference award before Game Four of the 2018 PBA Philippine Cup Finals at the Big Dome.
"For me, I'm not the only BPC. All of us in our team are BPCs," said Fajardo.
He said one should not look far to see how they're winning games as a team. "Just look at this final series," he said.
True enough, Fajardo is somehow neutralized but there are the other SMB top guns doing the damage against the Magnolia Hotshots.
Arwind Santos top scored with 24 points while Alex Cabagnot and Marcio Lassiter delivered solid all-around numbers in their 92-77 win in Game Two.
Lassiter sizzled with four three-pointers and a game-high total of 24 points in their 111-87 triumph in Game Three, then Cabagnot sparkled with 27 in their 84-80 decision in Game Four.
But there's no denying Fajardo is the Best Player of the Conference.
The 6-foot-11 Cebuano gentle giant received the Galvalume 55-PBA BPC trophy from league commissioner Willie Marcial shortly before Game Four.
It's his fifth straight all-Filipino top player award and sixth BPC plum in all including the one he won in the 2015 Governors Cup.
Relegated to second in the list of multiple BPC winners was Danny Ildefonso with five. Jayson Castro is now at third with four, followed by Mark Caguioa, Vergel Meneses, Eric Menk and Alvin Patrimonio with three apiece.
Fajardo was the near unanimous choice in the balloting with his whopping double-double averages in the tourney.