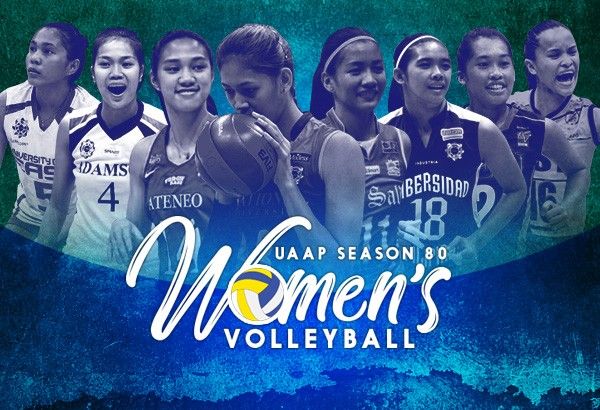 2 points from Wednesday's UAAP volleyball action: Ateneo and NU
MANILA, Philippines – Bet you missed the games after that long layoff. And they continue to spring surprises not only for the winning team but also the losing team.
How resilient are the Ateneo Lady Eagles?
Okay. Don't lie now. Who figured them to make the Final Four?
I'll be honest. I didn't. Their personnel losses. Their off-court woes. Really? But aside from Season 76 where "Heartstrong" became a mantra for them, this is the season where they have really demonstrated that. And this is can be argued that Tai Bundit has done a great job. Of course, credit to the girls too for their resiliency and courage.
Five straight wins in the second round. They have a 9-3 record with two more to play against UP and La Salle in that order.
Their first two matches of the season were two losses in five sets. They won the next two in four sets. Won their first five-setter of the season against Adamson. Took down UP in three straight then lost to La Salle in three straight.
They answered that stinging loss by blitzing FEU and NU in three straight. Defeated UE in four, then battled back to five a pair of five-setters against Adamson and now, UST. They were on the ropes against UST. Even Kung Fu Reyes realized it. It was just a matter of finishing them off.
Games sometimes, hinge on certain plays. They gave up points on two broken plays. They answer back by winning two of their own. An incredible dig here by Jhoanna Maraguinot. Two huge scores by Kat Tolentino. They were alive all of a sudden.
The moment there was shift in momentum, Reyes realized that as well. He sounded the alarm during a time out to no avail. His team folded like a pack of cards. Technically, there is slim chance but UST is dependent on how other teams finish. But for all intents and purposes that loss knocked them out.
Now, the Lady Eagles 3-2 in five-setter games this season. Only Adamson has played more five-setters with six where they are, 2-4.
Save for the loss to La Salle, the Lady Eagles have been tough to beat. I think aside from their championship experience; it is the strength of character of the team that has gotten them to where they are. Well, you go through their off-court woes, that'll toughen you up.
While no one expected them to make it this far, the question is…. How far will they go?
Where to, Lady Bulldogs?
To steal a quote from former LA Lakers coach Mike Dunleavy (from the 1991 NBA Finals): they aren't in a hole; they are in a rut.
Five games this second round. They are 0-5. From 6-1 to 6-6. They have won only two sets this second round while losing 15. While they are on the outside looking in with two games to play – and they can still turn it around – they have given Adamson and UST life.
From what I was told and know, even when they were at 6-1 at the end of the first round, not all was well. Even during the midst of that round, there were hints of trouble from within. The loss to La Salle to start the second round showed some cracks but it was the three-set loss to Ateneo that unraveled them and sent them into this tailspin.
Since their program started seven years ago, they have had talent. Major talent even. But the hallmark of their seasons past has been their fragile psyche and tendency to fall apart (and that is putting it mildly). And now – yes, I know the season isn't done and they can still turn it around – it's déjà vu all over again. They have more plot twists and turns than any telenovela.
In our previous analysis of their downward spiral, we pointed out how they tend to unravel over the course of a match. The scoring drops. Against UP, they were there. I think they came out thinking they can win this. But UP was playing with zero pressure and that augured well for them. NU on the other hand could not get any support for Jaja Santiago anywhere on the court.
Only twice this second round has Santiago help in scoring. Risa Sato scored 11 against La Salle and has since disappeared. Audrey Paran added 11 against UST but also was invisible against UP.
While Paran and Roselyn Doria have not played well, a crucial piece to their pie is Sato. When she doesn't play well – even when she was with BaliPure – her teams do not win. When she is blocking and scoring, she is in her game.
You cannot make a case for errors as a whole because only thrice since their last game of the second round have they given up more error points. It is when they commit their mistakes that is more crucial. At the worst times possible.
On Sunday, April 8, they played UE. If they are looking for respite against UE, that might not be easy pickings. The Lady Red Warriors have really picked it up. While UE could finish last once more, they have won more sets this year than any time in the past several years – 14!
Then they battle FEU on Sunday, April 15, for their final game of the elimination round.