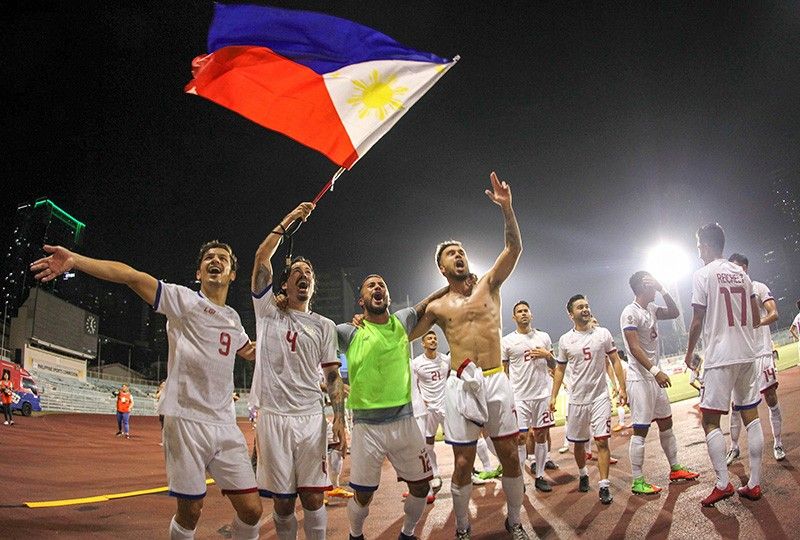 The Philippine Azkals celebrate after beating Tajikistan.
Kris Robles
Azkals looking at Fil-German, Fil-Swedish prospects to boost AFC Asian Cup roster
MANILA, Philippines – The Philippines is determined to form the strongest possible, best-equipped team as the Azkals bid to make their mark in next year's AFC Asian Cup in United Arab Emirates.
Azkals team manager Dan Palami said they are eyeing prospects from Germany and Sweden to beef up the nationals for the Continent's version of the World Cup with training camps either in Europe of the Middle East in the pipeline for the major build-up.
"The intention is not just to be a participant but really to compete (in the Asian Cup)," Palami said during Tuesday's PSA Forum.
"It's going to be logistically, physically, emotionally and financially challenging; a lot of resources will be required for us to make sure we'll have a good performance because we'll be competing against the big boys there," added Palami, who estimated a war chest of P40 million for the endeavor.
Among the new recruits being eyed are a pair of Fil-Germans in Raphael Obermair of Bayern Munich and Gerrit Holtman of another Bundesliga side FSV Mainz, and Fil-Swedish Jesper Nyholm of AIK Footboll.
Palami said there were already initial talks and the trio have expressed desire to join the Azkals. At the same time, he said they are in the lookout of new talents from the home front.
"The challenge will be to bring in strong players so we'll have a deeper bench and of course, scheduling (the training sessions and string of international friendlies)," said the Azkals boss, whose wards will also compete in the AFF Suzuki Cup in November.
As to coach Thomas Dooley, whose contract expired last Saturday, Palami said he and Philippine Football Federation officials are currently "evaluating" the former US skipper's performance at the helm and may take a month to come up with a decision.
"There's a lot of reason why he should be extended. We've had our best performance under his tenure but we also need to look at the conditions. We're talking with the players as well to find out whether at the level of the Asian Cup, he could make the players respond in such a way we can be successful and if he can bring us to the level we would want to go," said Palami.
The Azkals will know their groupmates on May 4 during the scheduled draw and only by then can they sort out the details of their pre-Asian Cup preparations, said the team manager.