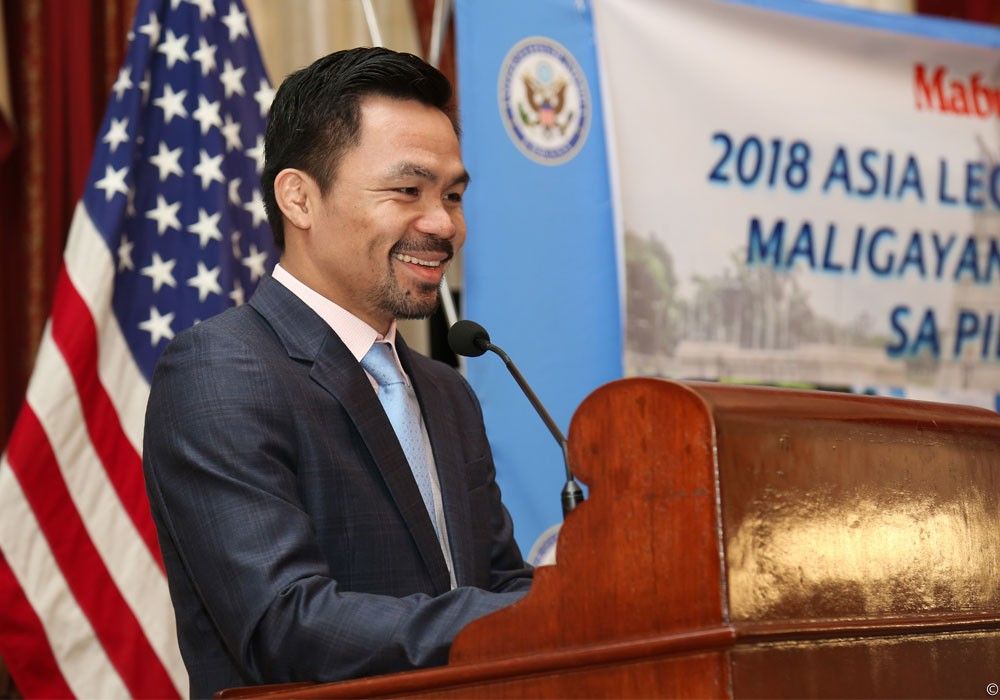 Sen. Manny Pacquiao
Wendell Alinea/OSMP
Top Rank deal expired, Pacquiao camp insists
MANILA, Philippines – Contrary to Bob Arum's claims, Manny Pacquiao is no longer contractually bound to Top Rank Inc., the boxer's camp said Tuesday.
This comes as Pacquiao, through his own MP Promotions, is moving to seal a deal to challenge WBA welterweight Lucas Matthysse in Kuala Lumpur, Malaysia this June — a fight in which Arum will reportedly no longer be involved.
A Philboxing.com article by Aquiles Zonio, Pacquiao's media officer, quoted the boxer's lawyer as saying that the Filipino icon's contract with Top Rank already expired last year.
According to Pacquiao's lawyer Eldibrando Viernesto, the last fight under that deal was against Jeff Horn in Brisbane, Australia last July.
"I reviewed the contract and I found out that Bob Arum has no more say even in the rematch, should there be any, between Manny Pacquiao and Australian boxer Jeff Horn," Viernesto said.
Pacquiao lost to Horn, and even though the former has a rematch clause, the second fight did not materialize due to various reasons.
Now, Pacquiao is set to team up with Oscar Dela Hoya's Golden Boy Promotions, which handles Matthysse, to co-promote the fight tentatively penciled for June 24.
But Arum previously claimed Top Rank is not out of the picture and will be involved in the Malaysia fight, in one way or another.
The veteran promoter likewise stressed that Pacquiao is still a Top Rank fighter.
"Pacquiao is under contract with Top Rank for reasonably long period of time but I don't know when the contract will expire," Arum earlier told boxingscene.com.
Pacquiao camp blasts Arum
Zonio, for his part, claimed Arum had "sabotaged" Pacquiao previous plans to fight outside the United States.
"The first one was the planned Pacquiao Dubai fight then the other was the fight supposed to be staged either in Macau or Hong Kong," Zonio wrote.
"In two separate occasions, Arum called up Pacquiao's financiers threatening to file a lawsuit if Top Rank is not included in the promotion. They cowed in fear resulting to the scrapping of the fight."
Pacquiao's information officer added that Arum is trying to do the same — this time unsuccessfully — for the Filipino's Malaysia plan.
"This time, Arum, for the third time, tried to sabotage the fight by calling up Pacquiao's Malaysian financial backers. No dice, old man. He was ignored," said Zonio.
Before he ended up staking his WBO welterweight title against Horn, Pacquiao originally eyed British fighter Amir Khan in a fight to be held in Dubai.
As of posting time, Top Rank has not responded to an email by Philstar.com seeking comment.
Pacquiao, meanwhile, is determined to push through with the Matthysse fight, with plans to make the formal announcement early next month. Dela Hoya, according to Pacquiao, will fly to the Philippines to help promote the bout.
"Dela Hoya called up asking me if we could reset the Manila launching after the Holy Week. That's why it (Manila press conference) was moved to April 4," Pacquiao said.