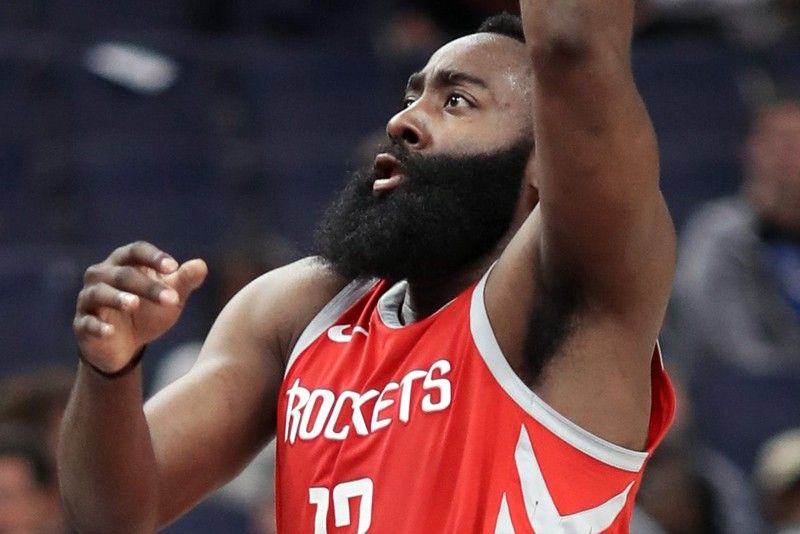 Houston Rockets hold off Minnesota Timberwolves
(Associated Press) - March 20, 2018 - 12:00am
OKC stops Toronto; New Orleans downs Boston
MINNEAPOLIS – For the Houston Rockets, finally facing a challenge from Minnesota and a hostile crowd on the road was a good test to prepare for the postseason.
The Timberwolves, meanwhile, are left holding on for dear life in a tightening playoff race.
James Harden had 34 points and 12 assists and helped the Rockets fend off a fourth-quarter rally and beat the Timberwolves 129-120 on Sunday night. The win was Houston's 26th in 28 games, and it dropped Minnesota into the eighth playoff spot in the Western Conference.
Houston led by as many as 25 before the Wolves, who started the day in a three-way tie for the West's fifth spot, pulled within five in the fourth. Harden had 11 points in the final 6:34, including a 3-pointer with 58 seconds left that effectively secured the win.
"It's good for us, man," Harden said. "We needed it. We needed to be in games like that. Obviously, having a big lead and losing it, we can't let it happen, but if it does we've got to make sure we can keep our composure and get a good shot every time."
Just another day for the West's top team, which also got 16 points apiece from Chris Paul and Clint Capela.
"We get a little stagnant here and there, but we're figuring it out," Paul said. "We haven't played too many close games all season long, so down the stretch we need that stuff."
If these two teams do end up facing each other in the first round, the Wolves will need a much more consistent effort.
"We put ourselves in too big of a hole, you can't do that," said coach Tom Thibodeau, who bemoaned his team's lack of intensity in the first half. "With where we are right now, the fight has to be greater."
Elsewhere, Oklahoma City stopped Toronto, 132-125; New Orleans upended Boston, 108-89; while the Portland Trail Blazers downed the Los Angeles Clippers, 122-109.
Back in Minnesota, Jeff Teague led Minnesota with 23 points, Andrew Wiggins had 21, and Karl-Anthony Towns and Jamal Crawford each added 20.
"I know for me personally, I don't look at it every day because it's going to change 10 more times before the season is over with, and you'll drive yourself crazy," Crawford said of the playoff standings. "Especially when you can kind of control your own destiny. If you do what you have to do, you don't have to worry about what everyone else is doing."
The game was seemingly over by halftime. Houston shot 63 percent, hit 11 3-pointers and led by as many as 24 in the first half while turning the ball over only three times. Harden had 10 assists in the first half, when the Wolves were as close as three before Houston reeled off a 12-0 run and didn't allow Minnesota to recover.
Minnesota's 19-6 run made it 115-110 with 3:58 to play before Trevor Ariza hit a 3, and the Rockets were able to answer every Wolves bucket to hold off the rally.