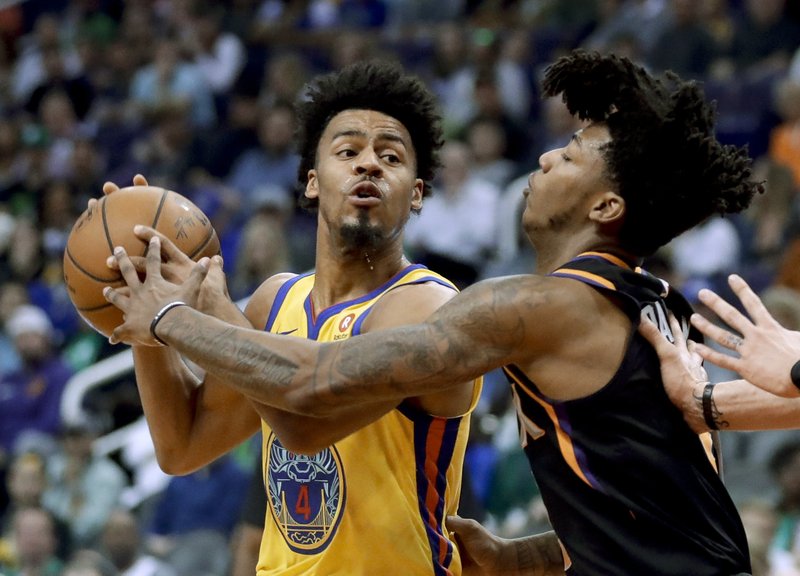 Cook, Green lead depleted Warriors past Suns 124-109
Bob Baum
(Associated Press) - March 18, 2018 - 12:00pm
PHOENIX — Even with Golden State's Stephen Curry, Kevin Durant and Klay Thompson on the sidelines, the Phoenix Suns couldn't beat the Warriors.
Quinn Cook did his best Curry imitation, scoring 16 of his career-high 28 points in a dominant third quarter, and the severely depleted Warriors handed the Suns their eighth straight loss and 23rd in 25 games, 124-109 on Saturday night (Sunday in Manila).
"This is definitely one to feel good about," said Draymond Green, who narrowly missed a triple-double for Golden State.
Nick Young added 20 points for the Warriors, who beat Phoenix for the 13th consecutive time despite playing without Curry (ankle), Durant (ribs) and Thompson (fractured thumb) — a trio that averages a combined 73 points per game. The Suns didn't have leading scorer Devin Booker due to a right hand sprain.
Green had a season-high 25 points along with 11 rebounds and eight assists for Golden State, which had lost three of its last four after the injuries began to hit.
"I call Draymond the heartbeat of our team for a reason," Warriors coach Steve Kerr said. "When he is out there doing what he was doing tonight, playing with that kind of energy and focus, he is tremendous and leads our team no matter who's out there."
Rookie Josh Jackson scored a career-high 36 points for Phoenix. Troy Daniels added 18.
Phoenix led by 15 in the first quarter but was outscored 72-49 in the second half.
"Coach got after us a little bit at halftime," Cook said. "First half I thought we were going through the motions a little bit. We locked in defensively which led to great shots on offense which got everyone going."
The Suns outscored the Warriors 30-9 over an eight-minute stretch in the first half to take their biggest lead at 50-35 on Daniels' cutting layup with 6:52 left. Phoenix led 60-52 at the break.
The Warriors outscored Phoenix 29-7 over one stretch in the third quarter to lead 86-74 on Cook's consecutive 3s with 3:34 left. A 7-0 Suns' spurt cut it 88-83, and Golden State led 94-85 entering the fourth.
Phoenix never got any closer.
"We lost Cook a couple of times and that just accelerated it," Suns interim coach Jay Triano said. "But you know, we struggled to score a little bit as well. We can't give up the 3-point shot and we knew that going in. That was the whole focus of our game."
Cook, coming off what was then a career-best 25 points in Friday night's home loss to Sacramento, made all six of his shots in the third quarter, three of them 3s. He finished 10-of-16 shooting, 5 of 6 from deep.
"I always wanted to stay ready for the opportunity," Cook said. "I never wanted to have the opportunity and not be ready. That has always been my mindset and my motivation."
He is the first undrafted player this season to score at least 25 on consecutive nights.
"He has proven he can compete at this level," Kerr said. "'In the last couple of games, you can see what he can do. He is a great shooter. We have known that he is a good fit with us too."