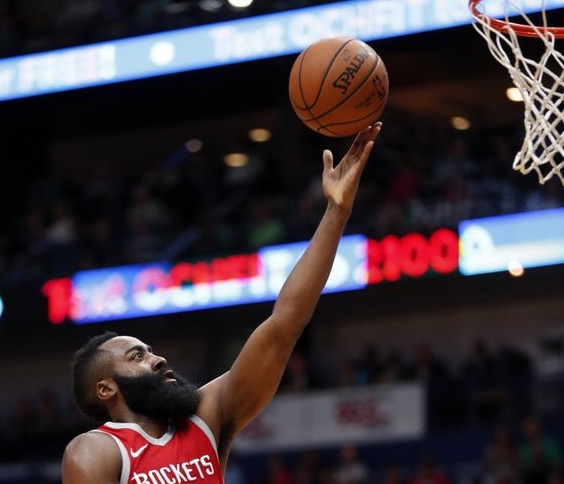 Harden ignites Houston as Pelicans' Gentry enraged by foul
NEW ORLEANS — James Harden's craftiness in the clutch ignited Houston's offense — as well as Pelicans coach Alvin Gentry's temper.
Harden had 32 points and 11 rebounds, and the Rockets won for the 21st time in 22 games, beating New Orleans 107-101 on Saturday night (Sunday in Manila).
Harden's highlights included his usual array of explosive drives and pull-up jumpers, including a 27-foot, straight-on 3 that put the Rockets up by nine with 1:31 left. He also drew a foul on a missed 3-pointer in which he threw his arms forward toward Pelicans guard Jrue Holiday as he went up for the shot with 5:39 left.
A fuming Gentry saw that call as wrong and pivotal.
"You can't guess on plays when you've got teams playing for playoff spots. You can't guess on the game. You can't guess on the fouls," Gentry said. "That's not the way you do it."
Holiday, who had defended the play with one arm pressed against his torso to avoid fouling, was furious with the call, as was Gentry and the crowd when the replay was shown. Gentry, who claimed he saw Harden wink after the foul was called, was assessed a technical as he demonstratively walked away from official David Guthrie and sat on the bench.
That gave Harden four free throws, of which he made three to put Houston ahead 95-85.
"When you can get technical fouls for walking away from a guy, then this league has really changed. I walked away from him so I wouldn't get a technical," Gentry said.
The Pelicans coach bore no ill will toward the Rockets or Harden, whom he called "the MVP of the league."
"He's done everything to earn that. His team has got the best record. He's a closer. He comes up with big shots when he needs to."
Gentry said he wouldn't have been as angry if Houston and other teams didn't consistently get away with holding Pelicans All-Star forward Anthony Davis as he tries to move to the basket without the ball after setting screens.
Davis finished with 26 points and 13 rebounds, but attempted just four free throws. The Pelicans lost for the fourth time in five games.
"AD never gets a call," said Gentry, who is likely to be fined for publicly criticizing officials. "And you know why? Because he doesn't bitch and complain about it. He just keeps playing.
"I'll take the damn fine they're going to give me tomorrow. That's fine. But I'm sick of it," Gentry said.
The Pelicans still had a chance to make it a one-possession game when Holiday's driving layup as he was fouled made it 105-101 with 17 seconds left. Holiday, who had 19 points, appeared to miss the free throw on purpose in hopes of capturing a long rebound, but Paul foiled that plan by darting in front of the Pelicans guard to give Houston possession and force New Orleans to foul him.
Paul made both free throws to finish with 21 points. Clint Capela had 13 points and 11 rebounds for the Rockets, winners of four straight since their 17-game winning streak ended against Toronto.
"We could have been a little cleaner down the stretch," Paul said. "We probably could have executed better, but we'll take the win."