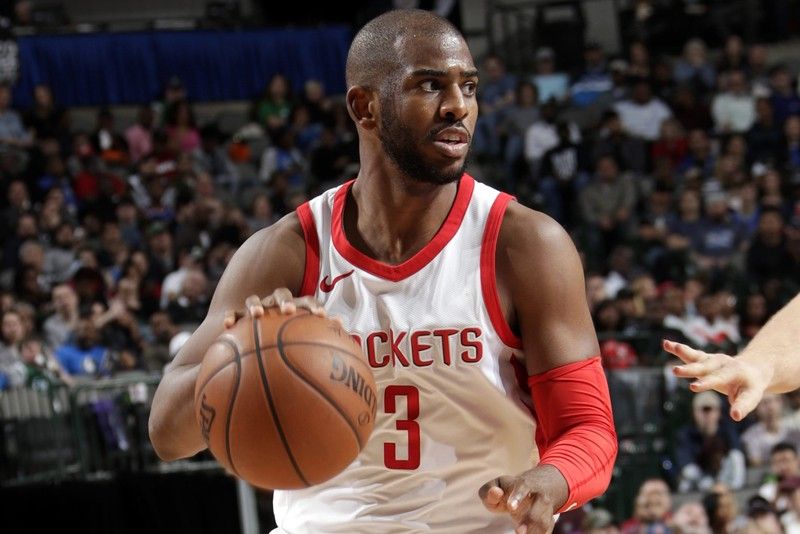 Chris Paul of the Houston Rockets handles the ball during the game against the Dallas Mavericks at the American Airlines Center in Dallas, Texas. AFP
Houston Rockets sink Dallas Mavericks, clinch playoff berth
(Agence France-Presse) - March 13, 2018 - 12:00am
MANILA, Philippines — The Houston Rockets clinched an NBA playoff berth with a 105-82 rout of the Mavericks in Dallas on Sunday as reigning champions Golden State and Cleveland both lost.
Even with Most Valuable Player candidate James Harden sitting out with a sore left knee, the Rockets had little trouble from the Mavs.
Only a spate of eight second-quarter turnovers by Houston helped Dallas erase a 15-point deficit and briefly take a six-point lead.
The Rockets soon tidied things up to take a one-point lead at halftime that they wouldn't surrender after the break.
Point guard Chris Paul scored 24 points and handed out 12 assists and guard Eric Gordon added 26 points for the Rockets, who led by as many as 26 in the fourth quarter.
Houston, who saw their 17-game winning streak ended by Eastern Conference leaders Toronto on Friday, improved their league-best record to 52-14.
They're 1 1/2 games ahead of the Warriors atop the West and Gordon said the Rockets would keep the accelerator down in a bid to claim the top seed.
"We want to finish number one – I think that's the main goal," he said.
The depleted Warriors fell 109-103 to the Minnesota Timberwolves, the defending champs' second straight defeat.
With superstar Stephen Curry missing a second straight game with a sprained right ankle, Kevin Durant scored 39 points and pulled down 12 rebounds for Golden State.
But Durant connected on just 11 of 32 of his shots from the field and sharp-shooter Klay Thompson needed 22 shots to score 21 points.
Draymond Green contributed 10 points, eight rebounds and seven assists for the Warriors, who were also missing Andre Iguodala, David West, Patrick McCaw and Jordan Bell as they lost back-to-back games for only the second time this season.
"We're just in a bit of a tough stretch," Warriors coach Steve Kerr said. "I'm really pleased with the effort. We'll get some guys back here hopefully in the next week or two, and I'm very confident with where we're heading."
Karl-Anthony Towns was a force inside for the Timberwolves, finishing with 31 points and 16 rebounds.
In other results, Toronto routed New York, 132-106; Chicago held off Atlanta, 129-122; Utah crushed New Orleans, 116-99; Denver blasted Sacramento, 130-104; Indiana nipped Boston, 99-97; and Philadelphia dismantled Brooklyn, 120-97.