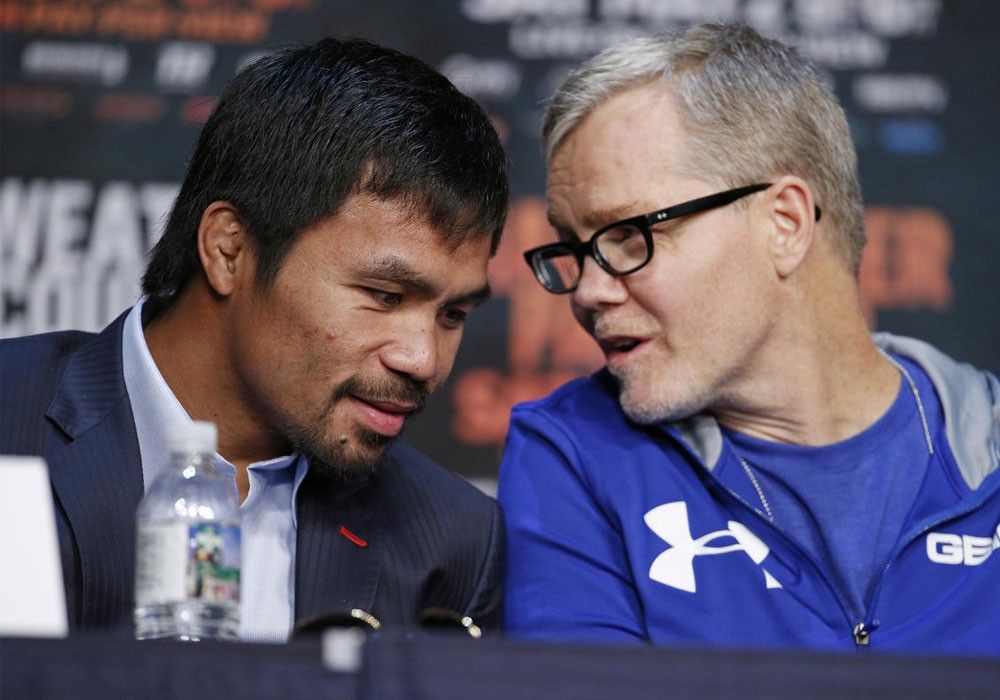 Are Manny Pacquiao and Freddie Roach heading to splitville?
AP
Roach out as Pacquiao's trainer?
MANILA, Philippines – Is this the end of one of the most successful boxer-trainer pairings in history?
When Manny Pacquiao's camp announced the Filipino icon's fight with Lucas Matthysse Thursday night, there was no mention of Freddie Roach in the press release they sent out.
Instead, the release said that Pacquiao's local trainers, headed by the boxer's childhood buddy Restituto "Buboy" Fernandez, will be in charge once training camp begins in the middle of April — roughly two months before the planned June 24 fight in Kuala Lumpur, Malaysia.
This fuels speculations that Pacquiao is severing ties with Roach, who had worked his corner for 34 straight fights dating back to 2001, when Pacquiao challenged then IBF super bantamweight champion Lehlo Ledwaba in his US debut.
Pacquiao, then a skinny 122-pounder, was a walk-in at Roach's Wild Card Gym in Hollywood, Los Angeles. After impressing Roach on the mitts with his unique combination of speed and power, Pacquiao had the bespectacled trainer in his corner when he fought Ledwaba as a last-minute substitute.
The rest was history as Roach would guide Pacquiao to multiple world titles in different weight classes. Roach would likewise win many Trainer of the Year awards primarily for his work on Pacquiao.
Those glory days are long gone, and things have reportedly gone sour between Pacquiao and Roach after the former lost to Australian Jeff Horn in Brisbane, Australia last year. There are unconfirmed claims that Pacquiao and his promoter Bob Arum weren't pleased with Roach not asserting himself by trying to convince the referee to do something about Horn's rough tactics in their 12-round bout.
Adding fuel to the fire was Roach's recent revelation that he hasn't spoken to Pacquiao since the Horn fight.
"I usually leave him alone until I hear from him, but I've called him five times and haven't heard back. Maybe he changed his number," Roach recently told the Los Angeles Times.
Now, whether Pacquiao wants Roach in his corner again as he challenges Matthysse is a big question.
"That is up to Manny," Pacquiao's adviser Mike Koncz told Philstar.com through text message when asked if Roach will be back as Pacquiao's trainer.
Philstar.com contacted Pacquiao on the matter, but the fighting senator has not replied as of posting time.
Amid the uncertainties spawned by Pacquiao's announcement of the Matthysse fight, the end of the boxer's decades-long partnership with Roach may be the biggest subplot.