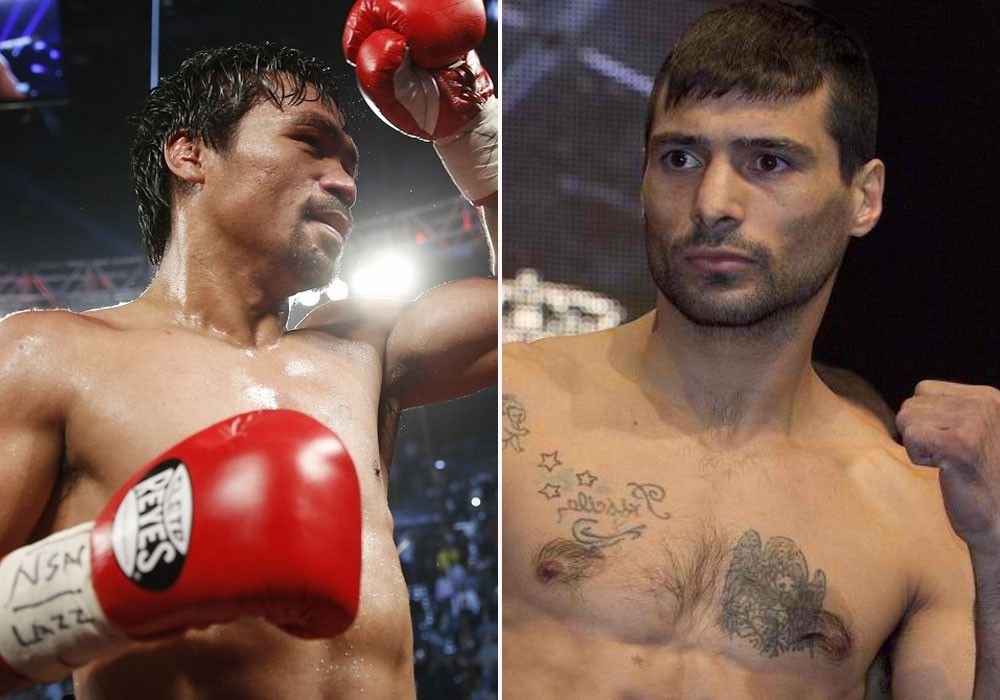 Manny Pacquiao and Lucas Matthysse
AP Photos
Pacquiao vs Matthysse in Kuala Lumpur not final, says Arum
MANILA, Philippines – Contrary to Manny Pacquiao's claim, a fight with WBA welterweight champion Lucas Matthysse on June 24 in Kuala Lumpur, Malaysia is not yet a done deal, according to Top Rank chief Bob Arum.
Arum spoke to boxingscene.com's Keith Idec and cleared thing up, saying Malaysian investors supposedly backing the fight have yet to come up with the funds.
"They're [Pacquiao camp] hoping to do a deal in Malaysia," Arum said. "I haven't been handling that deal. They've been handling that deal themselves. Hopefully the money, in the form of a deposit, turns up."
"The Malaysia part is up in the air. I don't know these Malaysian people. If they put up the money, it'll happen, happily. But do I know whether the money will be put up? No, I don't. It's as simple as that," added the veteran promoter.
In a detailed press release Thursday night, Pacquiao said the fight will be officially announced on March 22 in Kuala Lumpur, with press tours to follow in major Asian cities, such as Beijing, Tokyo, Macau and Hong Kong.
The Filipino icon even bared his training plans, which include going back and forth from Manila to General Santos City beginning in the middle of April.
But Arum insists everything — including the identity of Pacquiao's opponent — isn't set in stone.
"Matthysse is one of the guys that Manny is thinking about fighting. There are others. For example, if Jose Ramirez wins the 140-pound title Manny might fight him for that title. That part is up in the air," continued Arum, who also shot down claims that he's out as Pacquiao's promoter.
According to Pacquiao's camp, the fighting senator's deal with Top Rank only includes a rematch with Jeff Horn, who stunned Pacquiao in their fight in Brisbane, Australia last year. But since Pacquiao turned down a rematch with Horn, he is free to pursue fights without Arum and Top Rank's involvement.
Pacquiao also said that his fight with Matthysse will be co-promoted by his MP Promotions and Oscar Dela Hoya's Golden Promotions, which currently handles the Argentine champion. Arum, however, countered that Golden Boy's role in the promotion would be limited.
"Golden Boy [Promotions] has a contract with Matthysse, but Golden Boy has been told that [there would be] a provision of service agreement for Matthysse [to fight Pacquiao]. They would just be supplying the fighter," he explained.
Top Rank, according to Arum, will continue to be involved with the Malaysia fight if Pacquiao is keen on pursuing it.
"Manny wants to be the promoter in Malaysia. We would handle the logistics there for them and we would handle worldwide television," said Arum.