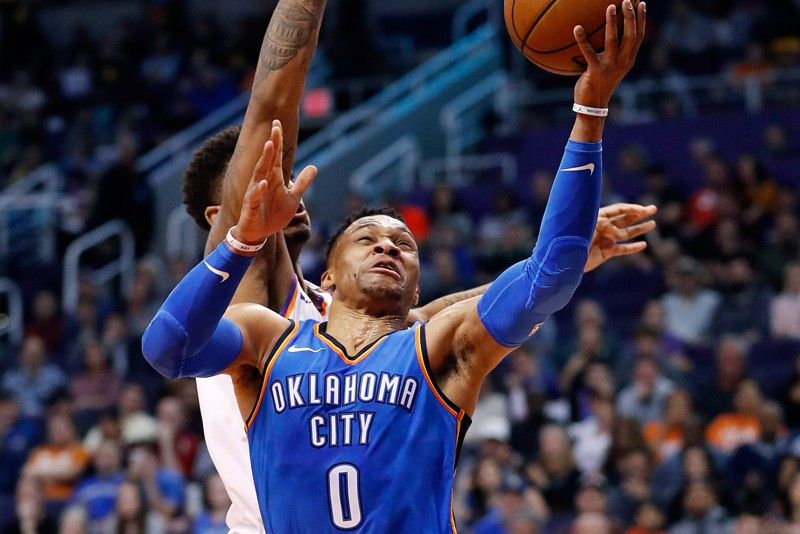 Oklahoma City Thunder guard Russell Westbrook shoots over Phoenix Suns forward Marquese Chriss during the first half in Phoenix. AP
Russell Westbrook scores 43 in Thunder victory
(Associated Press) - March 4, 2018 - 12:00am
PHOENIX – Russell Westbrook had 43 points, including the go-ahead 3-pointer with 56 seconds to play, and the Oklahoma City Thunder scored the final 10 points of the game to escape with a 124-116 victory over the Phoenix Suns on Friday night.
Westbrook also had 14 rebounds and eight assists for the Thunder, who had lost three straight to Phoenix. Paul George scored 20 points.
Devin Booker had 39 points for the Suns and – at 21 years, 123 days – became the third-youngest player in NBA history to reach 4,000 career points. Only LeBron James and Kevin Durant were younger.
In Atlanta, Stephen Curry scored 28 points, including 15 in the final seven minutes of the first half after returning from an ankle injury, and Golden State beat Atlanta, 114-109 for its fifth straight victory.
Curry turned his right ankle and left the game in the first quarter. He returned for his high-scoring second period before returning to the locker room for good in the third. The Warriors said a "tweaked right ankle" was the reason Curry would not return.
Kevin Durant also had 28 points for the Warriors, who are unbeaten since the All-Star break.
In Salt Lake City, Rudy Gobert scored a season-high 26 points and grabbed 16 rebounds, Donovan Mitchell also scored 26 points and Utah beat Minnesota 116-108 in a game that featured three ejections.
In other NBA games, it was 76ers 110, Hornets 99; Raptors 102, Wizards 95; Pacers 103, Bucks 96; Clippers 128, Knicks 105.