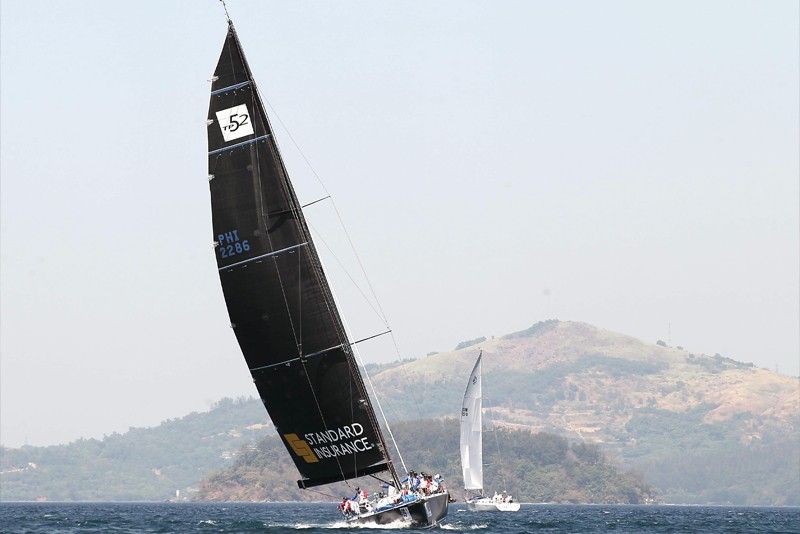 Centennial III crew navigate their way to the waters in the ongoing Subic Bay Verde Island Passage Race and Subic Bay Cup Regatta at Subic Bay.
Centennial III takes Race 1 vs Hong Kong bet
(The Philippine Star) - February 28, 2018 - 12:00am
SUBIC BAY, Philippines — Reigning Subic to Boracay champion Centennial III, skippered by Judes Echauz, beat Hong Kong's Antipodes in the first race of the IRC Racing Class I in the inaugural Subic Bay around Verde Island Passage Race and the Subic Bay Cup Regatta on Sunday.
But Hong Kong's GTS 43 Mandrake, helmed by Fred Kinmonth and Nick Burns, emerged as the overall champion after corrected time, arriving in the Freeport zone in 30:42:53 to Centennial's 30:59:11, or a difference of 9.82 minutes.
Antipodes, captained by Geoff Hill, placed second in the IRC I with a corrected time of 31:43:12 while local entry Karakoa, helmed by Ray Ordoveza, finished third overall with a corrected time of 54:57:59, according to Zed Avecilla, one of the event administrators.
Centennial III's perennial rival Hong Kong's Jelik of Frank Pong did not participate this year along with Hong Kong's 100-foot Scallywag, formerly known as Ragamuffin 100 that was recently bought by Malaysian-born Seng Huang Leng.
George Hackett's Mills 43 custom Misty Mountain did not start and Jun Villanueva failed to repair the Bellatrix mast in time in the 200-mile SBVIPR presented by Standard Insurance Inc. and supported by Tanduay Rum, Pepsi-Cola, Broadwater Marine, Nano Fixit and JC.
Verde Island Passage is a strait that separates the islands of Luzon and Mindoro, connecting the South China Sea with the Tayabas Bay in Quezon province and the Sibuyan Sea in Romblon. It is one of the busiest sea lanes in the Philippines because it is the main shipping route between the Port of Manila and the Visayas and Mindanao.
Bobby Benares' Sabad finished second in the IRC II with a corrected time of 31:51:22 followed by Jun Avecilla's Selma Star with a corrected time of 32:45:49.
Hong Kong's Emocean skippered by Michael Rover did not finish the race.
In the Cruising Class, Asia Pacific Sailing of Hong Kong captained by Leu Cheng Qi won in 36:32:48 while his only opponent, Apsaras also from Hong Kong and helmed by Li Jian, did not finish.
Overall winners in each three classes of the combined SBVIPR and the SBCR series will bring home the impressive hand-crafted solid brass trophy replicas by Fernando Cacnio, a multi-awarded Filipino visual artist.