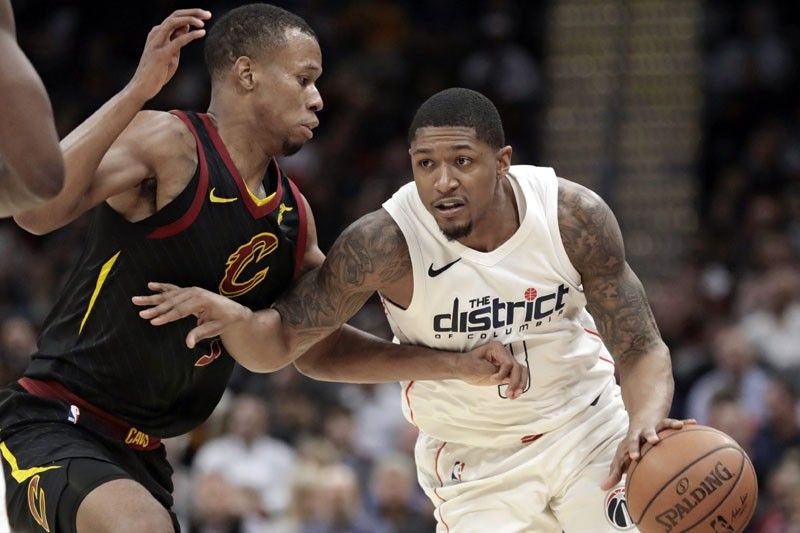 Washington Wizards' Bradley Beal drives past Cleveland Cavaliers' Rodney Hood in the second half of an NBA game in Cleveland.
AP
Wizards foil James, Cavs' late charge
(Associated Press) - February 24, 2018 - 12:00am
CLEVELAND – Bradley Beal scored 18 points, Kelly Oubre Jr. added 17 and tried to untie the sneakers of one of Cleveland's new players, and the Washington Wizards withstood a late assault by LeBron James to beat the new-look Cavaliers, 110-103, on Thursday night.
The Wizards nearly blew a late 11-point lead as James scored 14 straight points to pull the Cavs within 106-103. But Beal hit a driving layup and James missed a free throw and committed a lane violation while intentionally missing the second one and the Wizards held on.
Washington is 8-2 since star guard John Wall went down with a knee injury. Tomas Satoransky, who has been starting in Wall's spot, added 17 points and eight assists.
James, back from winning MVP honors at the All-Star Game, scored 32 – 14 in the fourth – for the Cavs, who dropped to 2-1 since acquiring four new players before the trade deadline. J.R. Smith added 15 for Cleveland.
In other results, Charlotte blasted Brooklyn, 111-96; New York turned back Orlando, 120-113; and Philadelphia edged Chicago, 116-115.
Back in Cleveland, the Wizards spoiled the home debuts for Larry Nance Jr., George Hill, Rodney Hood and Jordan Clarkson, four new faces the Cavs are hoping can get them back to the NBA Finals.
But there are more obstacles in the Eastern Conference than ever and the Wizards could be a much tougher out in the postseason – with or without Wall.
Washington overcame an early 12-point deficit and matched Cleveland's intensity. Oubre tried to give the Wizards an extra advantage when he reached over during a dead-ball situation and tried to untie one of Hood's shoes.
The four newest Cavs received warm ovations when introduced, with Nance getting the biggest roar from fans who remember his shot-blocking, dunking dad. Larry Nance Sr. was a two-time All-Star during eight seasons with Cleveland.
Before the game, Nance Jr. announced that the NBA will allow him to wear his dad's retired No. 22 jersey, which will remain hanging from the rafters in Quicken Loans Arena.