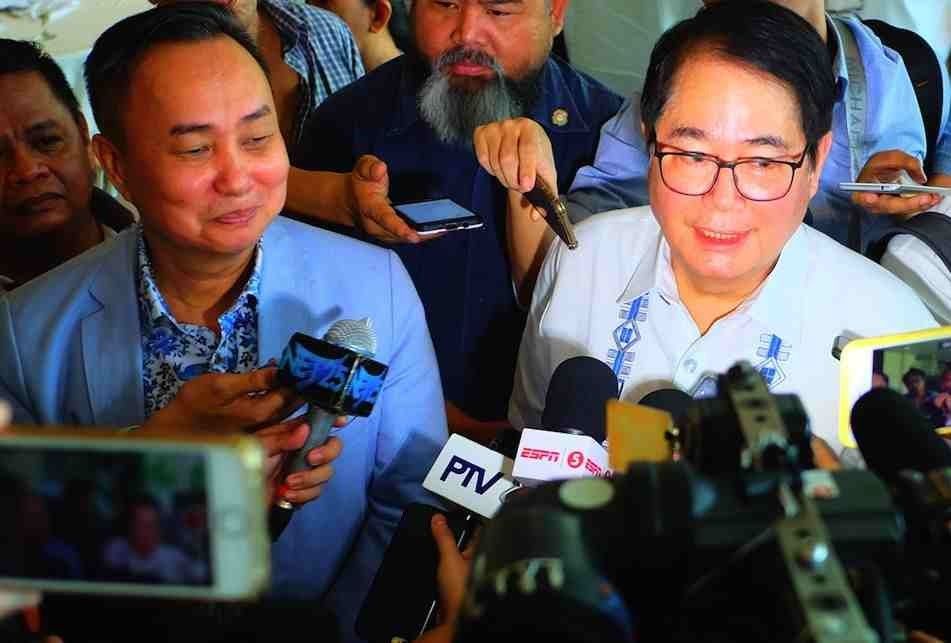 New leaders. Philippine Olympic Committee chairman-elect Bambol Tolentino (left) and president-elect Ricky Vargas, shortly after their election victory was announced during the POC's general assembly Friday at the Wack Wack Country Club in Mandaluyong City.
PhilStar.com/Denison Rey A. Dalupang
New era in Philippine sports: Vargas ends Peping's 13-year POC reign
MANILA, Philippines — Ricky Vargas defeated Peping Cojuangco for the Philippine Olympic Committee presidency on Friday at the Wack Watck Country Club in Mandaluyong.
Vargas, the Amateur Boxing Association of the Philippines chief and Philippine Basketball Association's chairman, ended Cojuangco's 13-year reign, 24 votes to 15.
Bambol Tolentino, cycling's top honcho, secured the chairmanship after defeating Ting Ledesma of table tennis, 23-15.
"They want change. I hope I could live up to their expectations," Vargas said, refering to public sentiment.
The new POC leaders dedicated their victory to the Filipino athletes and hinted at making the hosting of Asian Games this August and the Southeast Asian Games in 2019 their immediate priorities.
:loud_sound: Vargas echoes Tolentino's comments (see previous tweet on "reconciliation"). He also hinted on the drum-up to the Asian, SEA Games, and shared details on @iamMVP's hand POC's restart. #POCElections @StarSportsHub @philstarnews pic.twitter.com/jAHY6yFCrk

— Denison Rey Dalupang (@sonrd) February 23, 2018
Vargas' triumph came in a day before he turned 66.
Cojuangco, who was accompanied by his daughter and veteran national athlete Mikee, was the longest-serving POC chief. His tenure dates back to 2004.
The embattled former president was challenged by Vargas in November last year, but the latter was barred from joining the elections on grounds of active membership.
A three-man team, led by Frank Elizalde — formerly the country's representative to the International Olympic Committee — on Thursday ruled that Vargas and Tolentino are eligible for election, upholding a court order by the Pasig Regional Trial Court that nullified and rendered void Cojuangco's victory last year.
The legal drama, which culminated following the ruling of Elizalde's committee, paved the way for Friday's reelection and eventually a new era in Philippine sports' leadership.
Cojuangco's tutelage was hounded by empty promises and anemic performances in the international arena, causing his popularity to spectators, politicians and most importantly national athletes dip.
His best moment as the leader of the national Olympic body came during the 2005 SEA Games in the country's capital where the Philippine delegation hauled a total of 291 medals, composed of 113 golds, 84 silvers and 94 bronzes.
But that outing wasn't devoid of scandal. Five years later, Cojuangco was accused of misusing hosting funds following assessment done by the Commission on Audit.
What was widely regarded as the last straw in Cojuangco's term was the Philippines' dismal sixth-place finish in the SEA Games. Cojuangco targeted a gold-medal haul of 50, but the country only brought home 29. It was the Filipinos' worst finish in the biennial sports meet in 18 years.