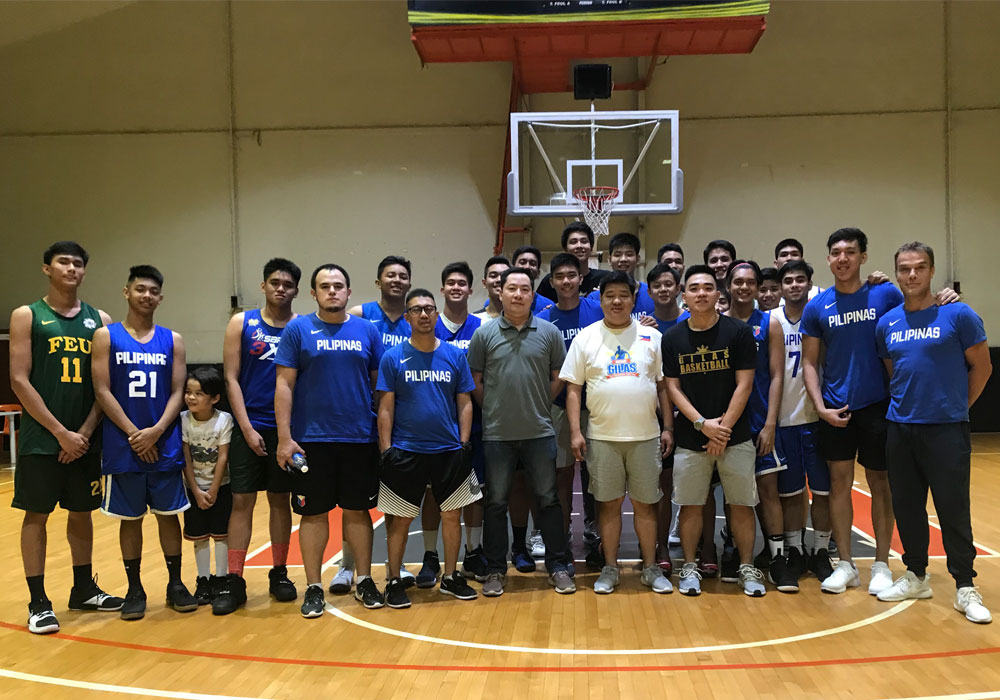 The coaches will make their last cuts in the Batang Gilas pool prior to their departure for China by the end of March.
Batang Gilas names pool for FIBA Asia U-16
MANILA, Philippines – The coaching staff of Batang Gilas led by Mike Oliver named a pool of high school basketball players in the weeks leading to the 2018 FIBA Asia Under-16 Championship from April 2-6 in Guangzhou, China.
"We are still waiting for some of the UAAP players to join us since the Juniors Tournament isn't over," said Oliver during Sunday evening February 18 practice at Meralco Gym in Pasig City.
"This is a partial list as we hope to add at least two more names. But over the next weeks, we will have to make the hard decision to cut some players, but that is because we can only line up 12 players," he added.
"If you notice, we have the SEABA veterans in the lineup," said team manager Wilbert Loa. "But we are also looking to add more."
Thus far, the 16 names in the pool for the tournament include:
Yukien Andrada, San Beda
King Balaga, FEU-FERN
Kyle Bautista, FEU-FERN
RC Calimag, De La Salle Zobel
Geo Chiu, Ateneo
Raven Cortez, De La Salle Zobel
Terrence Fortea, Nazareth School of NU
Mac Guadaña, Lyceum of the Philippines
Rafael Go, Chiang Kai Shek
Joshua Lazaro, San Beda
Bismarck Lina, UST
Forthsky Padrigao, Ateneo
Kai Sotto, Ateneo
Justine Sanchez, San Beda
Miguel Tan, Xavier
Ryan Samuel Yu, Xavier
The SEABA veterans that won the gold medal last May 14-18, at the 2017 Seaba U-16 championships at the Smart Araneta Coliseum include Calimag, Chiu, Cortez, Fortea, Go, Guadaña, Lazaro, Lina, Tan, Padrigao and Sotto.
"This tournament is going to be very tough because for the first time, Australia and New Zealand will be participating," noted Oliver.
"Hindi na 'to SEABA where the boys were taller than their Southeast Asian counterparts. The opponents here will be bigger, taller, and maybe even just as fast or even faster. So we have to double time. We won't have a lot of practice time since the UAAP players are still playing but we make do."
The coaches will make their last cuts prior to their departure for China by the end of March.