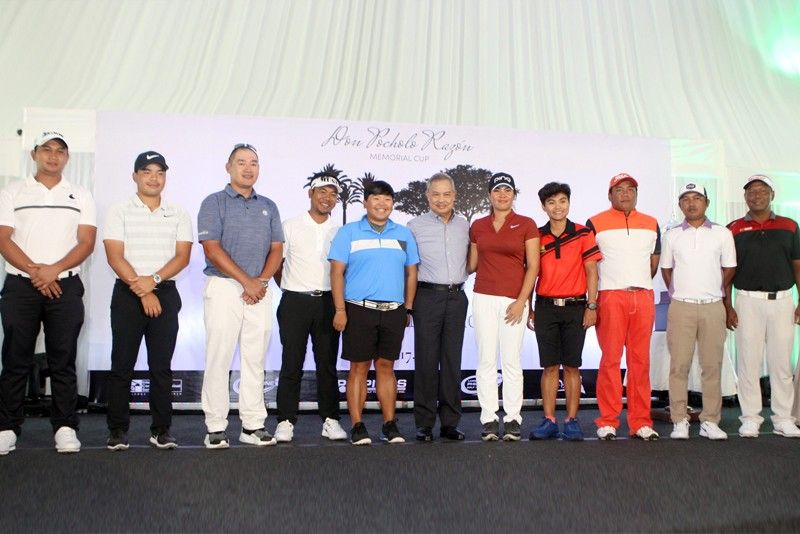 The Country Club president Chito Alarilla (center) poses with the top male and female pros during the formal launch of the new PGT, Ladies PGT and PGT Asia season after TCC Invitational pro-am tournament yesterday. Joey Mendoza
TCC Invitational unfolds amid threat of strong winds
(The Philippine Star) - February 14, 2018 - 12:00am
STA. ROSA, Laguna, Philippines — One less of the best of the best, the elite cast slugs it out beginning today – all aiming for a hot start and the momentum in what promises to be an explosive launch to the new ICTSI Philippine Golf Tour season – the P5 million The Country Club Invitational at the TCC course here.
The former champions, save for one, and the top players from last year's PGT Order of Merit ranking are all here, eager to test not only each other's shotmaking and putting skills but also the exacting course in pursuit of one of the most coveted championships in Philippine golf.
Miguel Tabuena sees another wild finish the way it was last year when he pooled a wind-blown 13-over 301 total and snatched a one-stroke victory after three-time champion Juvic Pagunan fumbled with a bogey on the 72nd hole for his first TCC crown.
"TCC's only defense is the wind, which creates a lot of problems for us," said Tabuena, bracing for another grueling four-day battle of wits at the Tom Weiskoph-designed layout, which underwent a major facelift in 2015-16.
It's a virtual mano-a-mano right from the start with the 30 players divided in twosomes, headed by the explosive match-ups between Angelo Que and Tony Lascuña, Frankie Miñoza and Tabuena, and Clyde Mondilla and Jhonnel Ababa.
Pagunsan, meanwhile, begged off at the last minute, complaining of noise-induced hearing loss following a stint at the firing range.
Still, the depth of the field remains as talent-laden as ever and the chase for the top P1.5 million purse is expected to go down to the last shot or putt with the lesser-fancied but equally talented players all raring to prove their worth in the 72-hole championship put up by ICTSI president and chairman Ricky Razon in 2003 to honor the memory of his father and ICTSI founder Don Pocholo.
Over at Splendido, Thai Yupaporn Kawinpakorn shoots for third straight Ladies Philippine Golf Tour win in the ICTSI Splendido Ladies Classic also firing off today at Splendido Taal Golf Club. Also in the fold are Pauline del Rosario, Dottie Ardina, Princess Superal and Cyna Rodriguez along with Korean amateurs Lee Ji Hyeon and Hwang Min-jeong.