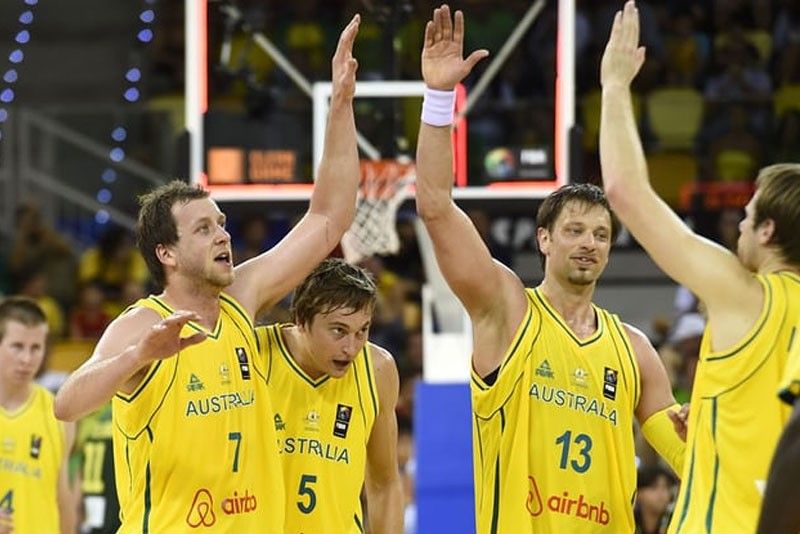 Cup at the Margaret Court Arena in Melbourne on Feb. 22. He's beefed up the Boomers lineup by recruiting naturalized import Kevin Lisch who has US, Italian and Australian passports. Gerard Julien/AFP
Australians gird for Gilas Pilipinas
MANILA, Philippines — Australian national basketball team coach Andrej Lemanis isn't taking any chances in the game against the Philippines in the second window of the FIBA Asia/Pacific qualifiers for the 2019 FIBA World Cup at the Margaret Court Arena in Melbourne on Feb. 22. He's beefed up the Boomers lineup by recruiting naturalized import Kevin Lisch who has US, Italian and Australian passports.
Lisch, 31, is a 6-2 guard who played under coaches Brad Soderberg and Rick Majerus with the St. Louis University varsity in Missouri for four seasons up to 2008-09. He logged 123 games for St. Louis, averaging 14 points and hitting 39.5 percent from beyond the arc. Aside from making a name for himself in basketball, he was a standout student, earning a Master's degree in business administration. Lisch has played in France, Spain and Puerto Rico. He made his Olympic debut with the Boomers at the 2016 Rio Games where Australia took fourth place. Lisch is a two-time MVP in the National Basketball League (NBL) of Australia.
Another addition to the Boomers cast is 6-8 Jesse Wagstaff who was on four NBL title squads with the Perth Wildcats. Wagstaff, 31, played four years at Metro State, an NCAA Division 2 school in Denver, and averaged 17.8 points and 7.5 rebounds as a senior in 2008-09.
Returning to the Australian lineup from the first window are 6-10 Angus Brandt of Oregon State, 6-4 Chris Goulding, 6-1 Jason Cadee, 6-11 Matt Hodgson of St. Mary's College in Moraga, California, 6-2 Mitch McCarron of Metro State, 6-5 Mitch Creek, 6-4 Nick Kay of Metro State, 6-3 Nathan Sobey of Wyoming, 6-6 Cameron Gliddon of Concordia University at Irvine, California and 6-10 Daniel Kickert of St. Mary's College. Goulding joined Lisch at the Rio Olympics and also played at the 2014 FIBA World Cup. Eight players saw action with US varsities and four suited up in pro leagues outside of Australia.
To guarantee chemistry, Lemanis recruited eight players from the Australian squad that won the FIBA Asia Cup in Lebanon last year. "Basketball is the No. 1 sport in the Philippines, they produce highly skilled players and play well together as a team," said Lemanis.
"The unique challenges that the Philippines present have definitely been part of the discussion and selection process. Our assistant coaches have spent a lot of time gaining an understanding of how they play and the specific talents of their playing group. We feel that we have selected a team that will enable us to negate some of their individual and team strengths as well as hopefully, causing a few challenging match-ups for them."
Gilas head coach Chot Reyes is no stranger to Lemanis. They faced each other in a pocket tournament in Antibes, France, to warm up for the 2014 FIBA World Cup in Spain with the Boomers winning, 97-75, behind NBA players Matthew Dellavedova, Aron Baynes and Dante Exum. Andray Blatche led Gilas with 20 points and 10 rebounds in 28 minutes. Reyes said Lemanis likes to use his entire roster with the Boomers playing physical in a full-court pressing defense.
Cadee, 26, said the Boomers are ready for Gilas. "We've obviously seen the Philippines play at the FIBA Asia Cup and our coaches will have their games from the last window," he said. "We know they're a talented group and will play hard. Every team is a challenge for us and we look at all teams in high regard and with a lot of respect. It doesn't matter whom we play. We go about it the same way. That's what got us a gold medal in Lebanon and hopefully, will be the reason we continue to win throughout these qualifications."