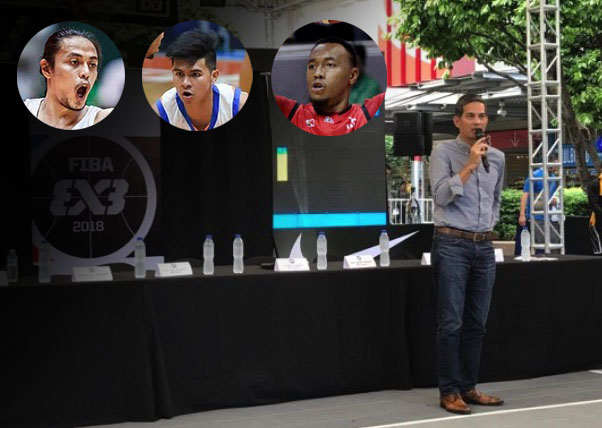 SBP president Al Panlilio during the FIBA 3X3 World Cup press conference last week. Inset, L-R: Terrence Romeo of GlobalPort, Kiefer Ravena of NLEX, and Calvin Abueva of Alaska. | Contributed Photo
Romeo, Ravena, Abueva interested to join Philippine FIBA 3X3 team
MANILA, Philippines — At least 20 professional cagers have signified their interest to play for flag and country in the upcoming FIBA 3X3 World Cup, according to the Samahang Basketbol ng Pilipinas.
But while SBP president Al Panlilio wasn't able to memorize the exact names, he said during the tournament's kickoff presser last week that he is thrilled with the amount of interest that the SBP is getting.
"'Di ko alam 'yung mga exact na pangalan pero I heard Terrence (Romeo), Kiefer (Ravena) sounded off," he told the press. "Calvin Abueva, too. Kasi they've been there eh. They've experience the 3X3. They also know that their game's improved and [that the 3x3] has improved their careers."
"Maybe it's also the passion of the players to play basketball and to support the SBP in these events," he continued.
And if you ask Panlilio, it's a win-win situation for both PBA cagers and the national sports association as the country's basketball landscape braces for the stacked years stretch ahead.
<<<LINK>>
"With the (3x3) World Cup on June and then 2020 (Olympics) barely two years from now, it's a very different game, very physical. So maybe we have to assess that as a part of criteria on choosing 3X3 players," he said, noting that the PBAers might be called upon to represent the country on the global skirmish slated on June at the Philippine Arena in Bulacan.
"Most probably, the personnel will come from the PBA or even from the developmental league. Mr. Alex Sanchez also remembers Rey Guevarra, for example, who has also participated not only in the 3X3 but in the dunk [contest as well]," Panlilio added.
"We were [suggesting] Rey Guevarra and say, put three more people who are highly competitive," he offered.
The specialized basketball format was made an Olympic event by the prestigious event's governing body only in July of last year.
"I think it's a good change to make it to the Olympics in Tokyo if we could develop a good program," Panlilio chimed in, looking ahead. "We're a bit behind on timeline but hahabol naman siguro tayo. We have two years to prepare for it."
"There will be time for us to really go to the qualifying in hopes of making it to the Olympics," he closed.